The Best of Fargo: Holiday Shopping
Hang on for a minute...we're trying to find some more stories you might like.
With the holiday season quickly approaching, the task for finding the perfect gift for your loved ones is in full force. Luckily for you, I found some of the perfect places downtown. Broadway is lined with little boutiques that are great for finding small gifts that you can give to your friends or family. I decided to choose three places downtown that I would like to visit and with a little help I narrowed down my selection to Zandbroz, Unglued, and The Red Silo.
My first stop on the list was Zandbroz and they offered a lot more than what I was expecting. After my first steps into the door from the cold North Dakotan winter, I looked up and was in utter shock at the stores' size.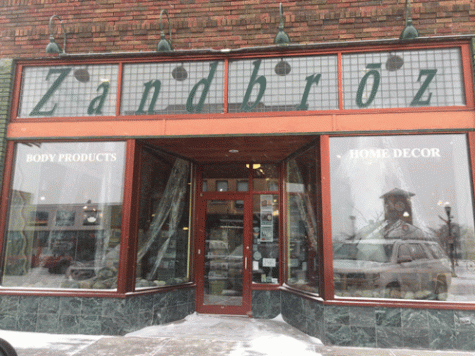 Traditionally, boutiques downtown are small and feel somewhat crowed but for Zandbros that was not the case. I slowly made my way around the store. Thankfully, it wasn't crowded with people. Only a few shoppers took in what they offered with me.
To the right, the wall was lined with bookshelves that were filled with books. It stretched from the front of the store all the way to the back. There was a small section towards the front that caught my eye. On the shelf were booked covered with brown paper and a small description was written on the front so that you were unable to see the title but instead judge if you'd like it based on the narration.
As I continued to the back they had a section dedicated to kids toys and different candies, ideal for any young siblings. Towards the middle back of the store they offered different kinds of beautifully made silver wear and plate sets.
Even more surprising, they were selling a dining set made by the very popular American luggage and handbag company Vera Bradley, most commonly known by teenage girls for their lanyards. Giving the perfect opportunity for a house warming gift.
All that remained was the left side of the store which contained anything you would need to treat yourself to a spa day.
Zandbroz offered a variety of soaps, lotions, scrubs and bath bombs, a perfect gift for any teenage girl. Throughout the whole store were knick knacks, cards, and other kitchen appliances out for show. I for one was highly impressed by what Zandbroz had to offer and would recommend it to anybody looking for a small gift to give someone special.
My second stop of the day was Unglued, just a few stores down from Zandbroz. Unglued is known for their small candy shop named Yeobo towards the back of the store. Yeobo offers over 60 different gummy candies and gourmet cupcakes made with special ingredients.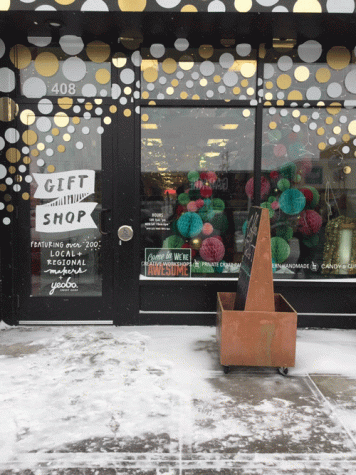 Immediately when you step inside you can tell Unglued is a small piece of Fargo. The boutique is filled with small signs, pillows, coasters; you name it, covered with very stereotypical midwestern phrases anybody would laugh at. The front of the store is aimed towards decorations and things to furnish a house with.
As you move towards the back Unglued has a variety of hand crafted jewelry made my mostly local small businesses. In the back, next to the candy, there is a wall lined with photographs, drawings, and paintings done by local artists all for sale. Most of the art includes trendy sayings and simple designs but they are each unique in their own ways. Unglued is the best spot to go if you are looking to give someone a piece of North Dakota and a memory to hold onto forever.
My last and final spot was Red Silo. Inside the shop is filled with lots of home decor and candles. The owners of the shop Todd and Bobbi have combined their love for photography and design and made it into a business. You will find many local artists' pieces inside the shop. Some of the works include photographs taken around Fargo and North Dakota. Others are simply moments captured by the photographer.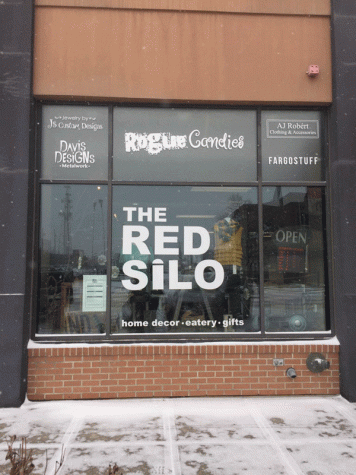 The designs of the décor are also centered around North Dakota whether it be a Bison sign or something for UND, they offer a variety. As you make your way towards the middle of the shop you will find a small room that contains candy from the small shop Rouge Candies. Rouge Candies features specialty caramels and Caramel sauce made in North Dakota.
Along with the candy store The Red Silo also contains Café Amaury, which offers a selection of coffees and teas while you browse the store. Past the two small shops you head towards the back and that is where you will find clothing for women. There is a small selection, but the clothing is unique and one of a kind. The Red Silo is high on the list of places to shop as the holiday season is just around the corner.
My experience shopping this holiday season is far from over. In fact it has just begun but visiting Zandbroz, Unglued and The Red Silo made my hunt for the perfect gift a lot easier. If there was one place of the three I would recommend to you, it would have to be Zandbros. Their variety of gifts takes the cake. I wish you all the best shopping this holiday season and hope that you find your perfect gift.
About the Writer
Andrea McClary, Junior Ad Editor
Andrea McClary is a junior at Fargo North High School. She is the Junior Ad Editor of "The Scroll" and is involved in North's Key Club where she is...