Fargo North Spartacas dancing strong this seaon
Throughout the nine months of grueling and lengthy practices, mentally challenging routines, and stress beyond measure, the Fargo North girls dance team, the Spartacas, participate in one of the most physically demanding sports at North. Dance is very strenuous, but these girls embrace the grind and make it their passion as they continue to dance through the season. "Many people don't understand how hard dancing actually is" said senior captain Anna Clower. However, the dance team doesn't get the same attendance as most sports do at North, and with colorful and eye-catching routines that are just as fun and interesting to watch as the other sports, it's surprising to see such little support from the school at competitions. "I wish that more people came to see us dance and understood how much work it takes to be a dancer." said junior Lynzi Shroeder.
The most exposure the Spartacas get at North is at the yearly pep fest in which they have two performances, one on their own and one with the senior boys. Although the senior boy dance is mostly a comedic routine that hypes up the school, it also gives a great insight into how hard dance is for the boys participating in it. "I was genuinely surprised at how hard dance practice was, I was drenched after almost every single one." Said senior Sam Harmon. Most of the boys that participate in the dance are in other sports, and almost every single boy said that dance was just as mentally challenging as the other sports they play. senior Gunnar Hager stated, "Having to memorize every movement and make sure it's in complete sync with everyone else is way harder than people think. I'm glad I got the opportunity to participate in this dance because it opened my eyes for how hard the girls have to work." The boys clocked in total of about 5 hours of practices that yielded around a minute and a half long routine.
Besides being extremely underappreciated, the Spartacas are also neglected by the school and the students. Many of their practices are hosted in the condensed commons, hardly giving them enough room to do their routines, competitions are rarely announced, and exemplary performances are never shouted out. The girls continue to stay tolerant throughout many of their challenges, which just proves how hard their work mentality is.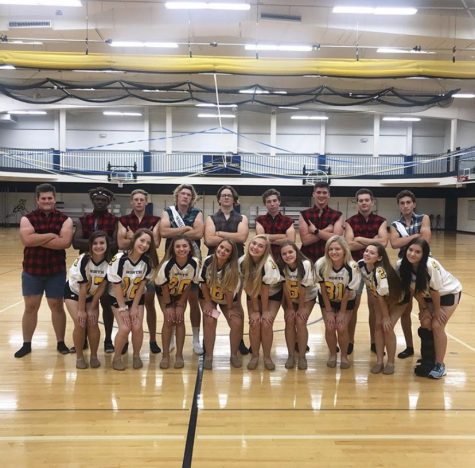 The Fargo North dance team is one of the most engrossing groups at North. The girls have been dancing with each other for so long that many of them treat each other like family. The commitment to each other to get better through all the obstacles and challenges they have to persevere is admirable and what true sporting is all about