North senior adds artistic flare to common Hydroflasks
North High senior adds an artistic flare to fellow Spartans' bottles
If you're looking for someone to add some character to your favorite water bottle or create a one-of-a-kind gift for a friend this holiday season, Lydia Lepper is your girl! She recently began a bottle painting business that turns an average looking bottle into one that is sure to catch all eyes.
Lepper is a senior at North this year and is taking sculpting class. This is the place where she was first asked to paint a water bottle by a fellow classmate, Ella Walen. After that, her artistic talent was further pursued.
"…I painted Ella's water bottle first and then someone else in my sculpting class wanted hers painted, so I decided to make it a business."
This decision prompted her to take her talent to social media where she created an Instagram account that she used to begin displaying her bottle artwork in hopes of reaching an interested audience.
Luckily, this move has seemed to work well as she has now painted nine bottles for other Spartans who seem to be very impressed.
"It's adorable! She did a really nice job." said senior Jensen Hanneman.
Lepper's quickly growing success may also be due to her affordable pricing even though she spends hours creating the look her customers want.
"I usually charge $10 but if the art is really detailed or specific I will charge more," said Lepper.
She also makes sure her customers' satisfaction prolongs any amount of time since the artwork could be damaged due to every day wear and washing.
"I put on a coat of clear spray to protect the art but it still might chip. Now that I've created more [bottles], I would recommend hand washing or dishwashing. And if you need touch ups or if you would like a respray, I can do that for free."
The future looks bright for Lepper and her business as she plans to expand the operation by creating a website to reach a wider audience and offering different products like painted clothing and phone cases.
If you're interested in Lydia's art, you can contact her through her Instagram account (@fnhsksksk) or by just approaching her at school.
About the Contributor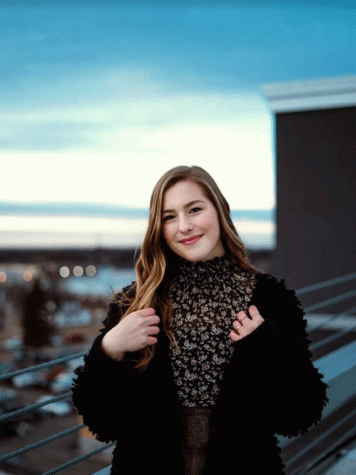 Elly Kenninger, Co-Editor-in-Chief
Elly Kenninger is a senior at Fargo North High School. She is an Editor-in-Chief. As well as being involved in journalism, she participates in basketball,...