Eleven Fargo North seniors committed for college athletics
Though Fargo North tends to have the stigma of being "bad at sports," this year's senior class currently has more signed athletes than any other Fargo Public School! So far 11 total seniors in the Fargo area have signed letters of intent for playing college sports and 5 of them are from North. There are a few others as well from North who have committed, but not officially had their signing day at school yet.
Danny Monatukwa will be wrestling at Concordia College this fall. Currently he is in his thirteenth year of wrestling, fifth year of wrestling varsity at Fargo North. Monatukwa plans on majoring in business with a concentration in marketing. It was a very easy decision for Monatukwa to commit to Concordia as his former wrestling coach Graelin Garlington is now the assistant coach there, and his former teammate Junior Surpis also is on the wrestling team. He also is happy he can stay close to home to see his little sisters grow up. Monatukwa's favorite memories from Fargo North wrestling were simply any free time the team had together outside of practice.
"Between dance videos and post weigh-in eats, it's been a blast to grow up with the guys on our team. The coaching staff has also been an incredible blessing," Monatukwa said.
Georgia Paul will be playing volleyball at Augsburg University this fall. She has been playing for seven years now and played on Fargo North's varsity team for three years. At Augsburg she plans on majoring in Accounting or Finance. She chose to commit to Augsburg because she loved the coaching staff and the welcoming atmosphere of the volleyball team. Augsburg also has classes she knew would challenge her and loved all the internship opportunities they have to offer. Paul's favorite memories of North volleyball was playing in the EDC tournament this year after not making it the past two years.
Aiden Carlson will be playing football at the University of St. Thomas. Carlson has been playing football for the majority of his life, starting in Kindergarten, and has been on Fargo North's varsity team for three years. At St. Thomas, he plans on majoring in finance. Carlson chose the University of St. Thomas because they have an excellent business program and he loved their football program.
"The culture of the program focuses on family and they're a really successful program," said Carlson.
Carlson's favorite North football memories were the Thursday movie nights before game day.
Jonah Bakken will be playing football at Concordia College. Bakken began his tackle football career in fourth grade and has been on the varsity team for three years. He is planning on majoring in finance or economics at Concordia. Bakken chose Concordia because they have a great business school and he loved how welcoming the coaches were. The connection of his dad working at Concordia helped make it all work out financially too. Bakken's favorite memory with the North football team was movie nights at Aiden Carlson's house.
"We'd play air hockey, Xbox, watch football and movies and just hang out before a big game day. They were always fun," said Bakken.
Grace Dorsher will be running at MSUM next fall. She has been running cross country and track since seventh grade for Fargo North. At MSUM, she plans on majoring in exercise science. She committed to MSUM because she absolutely loved the running team and likes how close the campus is to home.
"When I met the team it felt like no other team I had met with, and they were so welcoming," said Dorsher.
Her favorite memories from North's cross country were going to Olive Garden every year. She also enjoyed their sleepovers and team activities outside of practice.
Jacob Brosius will be playing football at MSUM. He began football in third grade, and has been on varsity at Fargo North for two years. At MSUM, he plans on majoring in exercise science and marketing. He chose to go to MSUM because he liked how everyone he met had similar mindsets and the coaches were great. Brosius' favorite memory from North football was watching the movie Halloween with his teammates.
Caleb Yokom will be running at University of Mary. He has been involved in track and cross country since fourth grade, and ran for Fargo North's teams for six years. At the University of Mary, he plans on majoring in secondary education. Yokom chose this university because he felt he really connected with the coaching staff and team. He also likes the small class sizes, and most importantly the dining center is open 24/7. Yokom's favorite memories from his time running for North was winning EDC and the friendships he has made throughout the years.
Chloe Sollom will be playing soccer at Minnesota State University Mankato next year. Sollum has been playing soccer almost her entire life, starting at four years old. She plans on majoring in nursing to become a pediatric nurse. The coaching staff were what really got her attention, as even through Covid they didn't give up on her and gave her the time to decide whether or not to commit. Sollom also wanted to play for a top soccer program that would challenge her, which Mankato fits that. Sollom also chose Mankato because she wanted a school that worked well with her future major and sport.
"Many of the girls on the team are also pursuing nursing and they said the school works very well with the soccer program," Sollom said.
Sollum's favorite soccer memory from Fargo North was winning EDC and making it to state her freshman year.
Eight Fargo North seniors have now committed to becoming college athletes and there probably will be more to come before the end of the year. Congratulations to all continuing their athletic careers to the next level and we all cannot wait to see what the Class of 2021 will do next year in furthering their education or starting a career.
About the Writer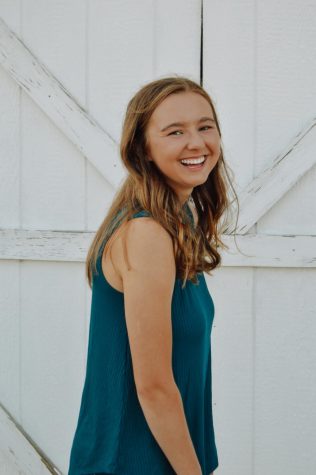 Kim Kadrmas, Editor-in-Chief
Kim Kadrmas is a senior and Editor-in-Chief for The Scroll. She is involved in many activities such as JCL, Band, and Key Club. In her free time she enjoys...