Lana Del Rey's new album revamps her musical career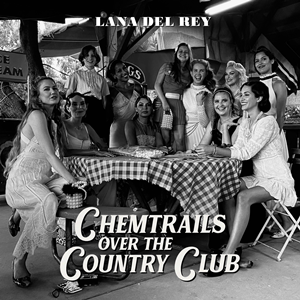 Lana Del Rey's long-awaited dreamy studio album 'Chemtrails over the Country Club' has finally been released as of March 19, marking a new era of her career in music and fame.
The older the albums, the more there seems to be glamour and fame being sung about, but as new albums come out, they start maturing with how LDR is more familiar with the fame, like she is less excited about her fame and was looking towards a more raw and emotional connection towards her songs she releases. The past has always still been included in her music, but this new album is a rendition of her newfound appreciation of midwestern folk and country sounds.
With a lot of trial and error and schedule delays due to the pandemic, Lana's process of preparing the album was stressful enough, especially given the large shadow her previous album 'Norman F****** Rockwell!' casted. LDR has told interviewers and has been open about how difficult Chemtrails was to produce when competing against NFR, but if it's anything relieving to her, I noticed elements of NFR in her new soft/folk album. I noticed a similarity in sound between Chemtrails 'Let Me Love You Like A Woman' and NFR's 'hope is a dangerous thing for a woman like me to have- but I have it.' Both very casual and not the most popular songs from either albums, but I love even small comparisons between her albums. I love when her songs have different executions, but similar meanings or transcendent sounds.
'Chemtrails over the Country Club' does include many elements from her different albums including her previous one, 'Ultraviolence,' 'Lust for Life,' while also creating an album with a whole new airy and dreamy feel completely different from her usual west coastal anecdotes. I, and many others, enjoy the blast from the past in her new album. It retains her past songs, but shows how much has changed since NFR was released and her fame grew even more. Her song 'White Dress' is sort of a testament to her "new past." As her first song in the album, hearing about her past as a waitress before possessing fame and fortune. The first thing I concluded when hearing this song for the first time was that I just knew the whole album was going to be perfect, especially as someone who has listened to Lana Del Rey for a long time. Long enough to be familiar with what she's singing about.
LDR's main vibe throughout her whole discography has always included Americana, which truly incorporates her love for the freedom land, while also expresses her feelings in a manner that presents her as a contemporary and modern poet. 'Chemtrails over the Country Club' turned out to have elements of folk and country that stood out in songs like 'Breaking Up Slowly' which featured country singer Nikki Lane. Past relationships are a popular topic in a lot of her songs. Most of them have sounded sort of melodic and carefully and professionally thought through, but in her new song 'Yosemite' it feels more raw and calm, and has sounds of folk with the strums of a guitar that makes you feel like you're camping out in the wilderness. As said before, details from previous albums like 'Ultraviolence' continued into Chemtrails, like some darker and deeper sounds came into play in 'Dark But Just A Game.' I love how my favorite albums of hers are all sort of mixed into this album, it's once again another reason why Chemtrails is flawless in a personal sense to her long-time fans, but also to new listeners that can just appreciate the sounds and lyrics.
In NFR, I think I had a different interpretation of the album from LDR's intention. Especially in 'California' and 'Venice B****', listening to the album gave me a feeling that I was in her shoes, and I was running to chase for someone I loved who lived in a different country. Chemtrails is a different thing from that. It's a lot more independent and feels like LDR is now saying goodbye to that guy she may have been chasing, even if that guy was theoretical or symbolic of something else she was chasing.
I see that a lot of the things that were past tragedies she sang about in previous songs became a symbol of growth and prosperity in her new album. 'Chemtrails over the Country Club' didn't fail to make listeners see into her past and visualize what it has done for her present self. For that, I adore this album and all of the shared memories that comes with it.
Leave a Comment