Little Nightmares 2: A great haunting game for all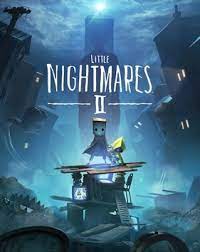 Little Nightmares Ⅱ is a sequel video game to the first Little Nightmares. This game is a puzzle-platformer horror adventure game that puts you in the perspective of a young boy named Mono. Your objective is to escape a mysterious world that is being distorted by transmissions from a mysterious signal tower. Mono must save Six from the evil that is of this strange world.
The first Little Nightmares is one of my favorite games by far. So when I heard that there was going to be a sequel I was ecstatic. The only negative outcome of the game is the price; $30 is a lot of money for a video game, but other than that it is very well made. I never thought the sequel could top the original, but with the detailed storyline and the amazing graphics, Little Nightmares Ⅱ has just become my new favorite game. As the first game follows the journey of Six, trying to escape from lost hungry monsters on a mysterious vessel, the sequel is following the life of a young boy named Mono. Mono's trapped in a world messed with signals from a mysterious signal tower. He must escape and save Six from evil monsters as well.
I love horror games a lot more than regular action games myself. Especially when there is a lot of mystery involved, and this game is all mystery. The game is rated for ages 12+, so it is intended for more mature audiences. It's not extremely scary, but it still contains a lot of horror elements. There are some jump scares like most horror games, but they make it all the better. I love jumpscares in horror games, because it keeps you on your toes. The jump scares that are in the Little Nightmare games are perfect.
The game can be played on Nintendo Switch, Stadia, Microsoft Windows, Xbox One Playstation 4, and soon will be available on Playstation 5 and Xbox series X. As I have said before, the game is pricey, but it is so worth it if you are like me and love horror puzzle games. You can purchase both Little Nightmares Ⅰ and Ⅱ on Steam.
I don't think I can say this enough, the artistic quality that this game presents is outstanding. The graphics are art; they aren't extremely detailed, but it is just enough to let your eyes focus on what is important. It's sad that nobody acknowledges the beauty in it all. They just focus on the tasks and play the game; they don't live it. Even the music makes you feel like you are there, feeling Mono's emotions, seeing what he is seeing. I can tell that the creators and developers put a ton of time and effort into making this game more than just a game, but also a visual masterpiece.
The credits for this amazing game go to the developers at Tarsier Studios, and the publishers of Bandai Namco Entertainment. Dennis Talajic is the game designer of Little Nightmares and he works with both Bandai Namco Entertainment and Tarsier Studios. Talajic is an amazing designer and he will continue to make more games for the entertainment of all.
Overall this game was a really fun experience, I recommend this game to all of my friends and anyone else reading this article.
If you would like to look more in depth with the Little Nightmare gaming world you can visit their Bandai Namco Entertainment websites.
Leave a Comment