The best of Fargo: Favorite hangout spots
Hang on for a minute...we're trying to find some more stories you might like.
As the school year starts back up and teenagers are being loaded up on homework, the only thing on any North High student's mind is where can they go to get a break. I found one of Fargo's best hangout spots to be Teaberry. Located downtown on Broadway this shop offers a variety of unique drink options centered around boba teas. They offer a variety of teas and flavors including, white teas, green teas, oolong teas, thai teas, milk teas and herbal teas. Most commonly known for its boba teas which include fresh fruit boba teas and coffee bobas that come in a selection of different flavors. You will never run out of flavor options and combinations to try. Another great thing about Teaberry is the calm and quiet atmosphere. The little shop is perfect for a study session or a quick meet up with a friend. The store provides different board games such as apples to apples, monopoly, bananagrams and even more if you're with a group of friends looking to have fun. It is the perfect place to go to clear your head and to enjoy a tea of your choosing.
A close second to Teaberry would have to be Krolls diner. Krolls is located on 45 St. s and it is hard to miss due to its shiny metal outside resembling a 50's-style diner. The inside is just as retro, the floors are tiled black and white and booths line the walls. Red lights are seen throughout the diner giving it an old school look perfect for an Instagram picture. The diner is open 24 hours perfect for any late night cravings or meeting up with friends after one of North Highs football games. The diner is a little bit on the pricey side but with their homestyle cooking you won't regret digging a little deeper in your pocket. Another thing to note about Krolls is its limited seating, it is not a small diner so there might be a small wait to get seated. Krolls is known for its award winning knoephla soup and their famous shakey Mondays, popular among most high school students, where they offer you a 2 for 1 deal on Mondays. There menu also includes delicious breakfast foods served all day like pancakes, french toast and omelets. This may not be the best place to get any studying done but it is perfect for taking a night out to enjoy yourself and have a great time with your friends.
The third and final place I found to be perfect for a hangout spot is Spicy Pie. The atmosphere is busy and up beat perfect for meeting with
friends. When you walk into each Spicy Pie, their walls, tables and everything else in between is covered in writing or drawings of all kinds, so make sure if your stopping in for the first time, leave your mark. There is a very laid back attitude in Spicy Pie so you don't need to worry about walking in with your pajamas on. They have a wide variety of options that include pizza, grinders, tacos, and desserts. During the week they have a lunch special that lets you get two slices of pizza and a fountain drink for $5. With three locations in the Fargo area you don't need to travel very far to find great quality pizza for a cheap price. It is not the ideal place to study or even have some quiet alone time because you find yourself sitting in a booth singing along to the music being played over the loud speakers.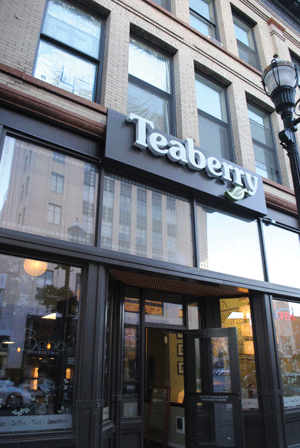 About the Writer
Andrea McClary, Junior Ad Editor
Andrea McClary is a junior at Fargo North High School. She is the Junior Ad Editor of "The Scroll" and is involved in North's Key Club where she is...