Fargo North Rowdy Crowd excited for new year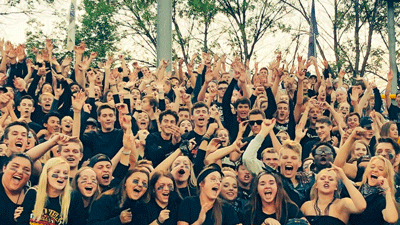 When you ask someone what they remember most about high school, you'll hear replies talking about the memories had with friends, the class clowns and creating new relationships with your classmates. At North High School you can be sure to experience all these things if you participate in the Rowdy Crowd. This year's Rowdy Crowd is led by four seniors, Kendall Swanson, Sophia Cody, Bridger Scraper and Brock Mjelstad.
The four leaders were chosen last year by the graduating class of 2018 because of their profound school spirit. "If you are interested in becoming a future leader of the rowdy crowd, you should be making frequent appearances at as many types of sporting events as possible and don't be afraid to be rowdy on your own…" said Scraper.  All four students are actively involved in sports themselves and can be found at many of North's sporting events throughout the school year. "I am a HUGE Northside girl. I am a huge activist for anything Fargo North and it means a lot to me, it's something that has made me who I am now and shaped me," Cody said. As leaders of the Rowdy Crowd, these North students have taken a responsibility to uphold North's reputation as a school, whether that be at sporting events or in the community.
In the past few years, the Rowdy Crowd has gone down in attendance and that concerns many of the current seniors. Some of the most well attended games are football, boys basketball, hockey and in more recent years volleyball. However, there are many sports at North that do not get the support they deserve. "We should support every sport, so not just certain sports are getting the big crowds… it tends to be just guy sports that gets a lot of support and it would be nice if the girl sports got some, too." said Swanson. This year's leaders think it's important that everybody at North knows they are appreciated and their hope for the future Rowdy Crowd is an increase in attendance at all the different sporting events and activities; not just football, soccer, and volleyball games. "It would be cool to see more people at hockey this winter and also the less-watched sports such as wrestling and golf." Scraper said.
To the leaders of the Rowdy Crowd, the most important part of keeping the Rowdy Crowd alive is involving the students. "A good Rowdy Crowd is led from the fence, but a great Rowdy Crowd  requires no leader as each individual is their own crowd." Scraper said. Since North is such a small school, every voice matters when you're in the crowd chanting, hoping for a North victory. The point of the Rowdy Crowd is getting the whole school involved in supporting North to the fullest. "The best part about the Rowdy Crowd is there's no judgment. You can dress up as much or as least as you want to and as long as you're cheering, no one will judge you. You also can be as loud
as you want and as crazy and you want, it's even encouraged." said Cody.
This year the seniors have some ideas to improve and work on making the Rowdy Crowd a more inclusive place for everyone. "We'd like to have more people cheering and not being as segregated in the crowd, not as much senior, junior, sophomore, freshman, in separate sections." Swanson said.  There is also possibility of some new cheers and traditions being passed down to the next class of North High graduates. "As any respectable Rowdy Crowd leader would, I intend to leave a legacy with the next generation of leaders. I'm not sure yet if that will come from creating a new set of cheers or starting tailgating events or possibly by bringing the crowd to some interesting events. Time will tell." Scraper said. The Rowdy Crowd is one of the easiest ways to get involved to support North High and it is hoped that the tradition will be carried out for years to come.
About the Writer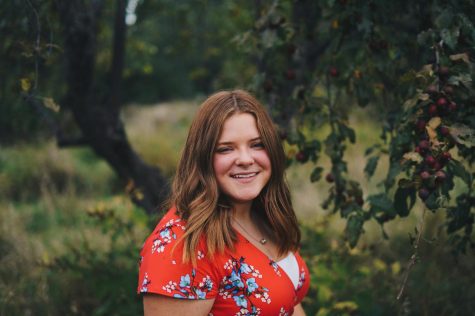 Andrea McClary, Ad Editor
Andrea McClary is a Senior at Fargo North High School. She is the Ad Editor of "The Scroll" and is involved in PAY and North's Key Club where she is...