The Best of Fargo: Festive Fall Coffee
Hang on for a minute...we're trying to find some more stories you might like.
As the fall season progresses, coffee shops around Fargo continue to get even busier. Tasty fall flavors and specials cover the menus showcasing each shops unique take on the fall season.
My first stop of three took us to Atomic Coffee. Atomic Coffee has been around downtown Fargo for a while now but in recent years it has grown in popularity. Immediately when you step in, it is a very welcoming atmosphere; there is low-lit lighting that has a calming effect, and for a coffee shop its size there is a large amount of seating available.
The most surprising thing about Atomic was the lack of specialty fall drinks. I decided to try the activated charcoal mocha, it was black so it reminded me of Halloween and the spooky side of fall. The barista was very friendly and had my drink made in just a few minutes.
My first few sips were a little confusing I couldn't tell if I really liked it or not, it didn't have a very distinct flavor. It had a vague taste of bitter chocolate, hazelnut and a little vanilla.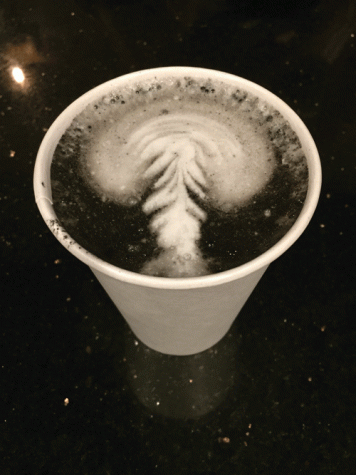 I was expecting more for the $5 I spent on the unique drink and if I did go back I wouldn't get it again. However, they do offer a variety of options and the space was very inclusive and welcoming.
The second stop on the list was Youngblood Coffee. Youngblood upholds its name as it is new to the downtown scene, opening just a little over two years ago, and it grew in popularity right away. The coffee shop differs from the others crowding Fargo as it offers a more West Coast take on flavors. The shop is usually packed and most tables are full. The ambiance of Youngblood is a very welcoming and open place.
It is loud inside but not in an obnoxious way, it's just meant to be a space for meeting with friends instead of a quiet study space. Youngblood provides a small menu that consists of their flavors.
I ordered a Miel, which is a honey cinnamon latte; the drink gave a fall vibe without screaming "pumpkin" at you, so I thought it was a good choice.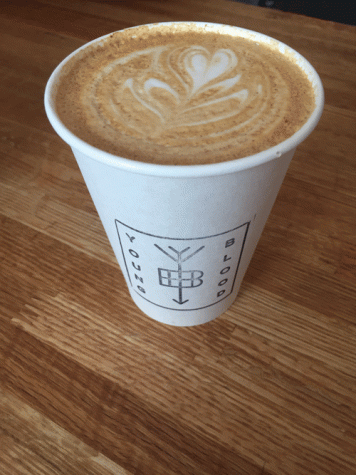 The drink cost $5 and I had to wait a decent amount of time for the coffee because they had run out of milk, but for the amount of people inside the shop who had ordered coffee it was not unbearable.
This drink if definitely for you if you enjoy a stronger taste of coffee; throughout the drink you get hints of honey and cinnamon. It is a drink that you need a taste for, but I would go back for it especially if I was looking for a kickstart to my day.
Saving the best for last, I went to Babb's Coffee House. Babb's Coffee house brings you the "Taste of Seattle" as they would say and have turned the shop into a cozy home away from home.
The coffee shop is smaller than most and offers very limited seating, but their large selection of specialty drinks made up for it.
The baristas are very friendly and willing to help you decide on the coffee you'd like most. I chose the Caramel Pumpkin Latte and was very happy with my decision. The drink cost about $5 and was out very quick. My latte was topped with Babb's homemade whipped cream and drizzled with caramel.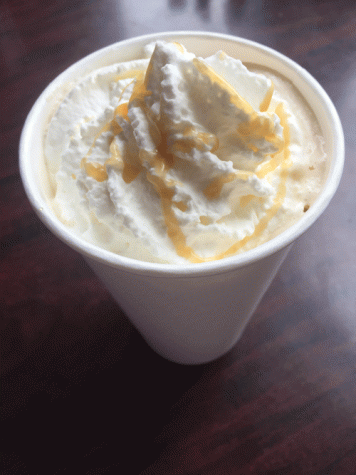 This is a perfect drink for anyone who doesn't like the strong coffee flavor and has a sweet tooth. You can taste the pumpkin, but the caramel softens the punch so it's not overbearing.
They also have an amazing hot chocolate if coffee isn't for you; it's rich and creamy and the whipped cream pulls it all together. Babb's is really the perfect spot to sit down, relax and enjoy a cup of coffee alone or with a couple friends to enjoy the crisp fall weather.
About the Writer
Andrea McClary, Junior Ad Editor
Andrea McClary is a junior at Fargo North High School. She is the Junior Ad Editor of "The Scroll" and is involved in North's Key Club where she is...