Future is bright as girls golf places ninth at state
Hang on for a minute...we're trying to find some more stories you might like.
Fargo North girls golf team competed in the state tournament over the weekend of Oct. 1. The team finished ninth out of twelve teams. The number one rank, sophomore Tonya Berg, finished seventh, which was the highest place for Fargo North.
"The best part of the season would have to be that for the first time, all varsity golf members shot under 100 at the state tournament, which is amazing." said senior Samantha Weston.
The most exciting part of the state for Weston would either be the team shooting under 100 or surprising the varsity head coach, Chad Christensen, on his birthday. "We got him balloon animals and a cake and we surprised him…It was just really fun," she stated.
"The girls did really well this year, especially on the second day of state. We came together as a team and we all shot under 100 at state and all individuality did really well. I'm really proud of how the girls shot" said senior Julia Morris.
Before the girls competed, the senior girls had some advice to give to the younger girls. "I told them they should just send it, honestly," Morris said.
After the tournament was in full swing the seniors also told junior Emma Ritterman to not fall in the water. Ritterman had fallen in the pond early in the tournament after trying to grab her cart.
Freshman Taylor Martin believes the best advice she received from the seniors this year was 'don't worry about it too much.'
All the girls have a lot of favorite memories from this season. Morris' favorite memory from this season would just be senior year overall. It was her last season and it was really memorable being with the girls and playing one of her favorite sports.
Martin said her favorite memory from the state was breaking her PR and from this season would be getting to the know the girls and playing on the varsity team as a
freshman.
Weston stated her favorite memory from this season would be never having to pay for golf balls and vulture golf at practice.
Girls golf starts their 2019 season early August with preseason practice during June and July. With many underclassmen on the team, they should see continued success.
About the Writer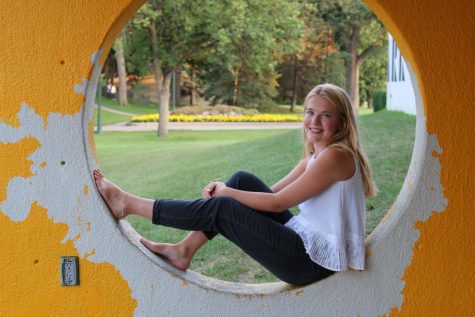 Tanna Schloesser, Reporter
Tanna is a senior at Fargo North. She is involved in HOSA, History Club, and Journalism. In her free time, she is most likely doing yoga, traveling, or...