Norwegian exchange student becomes a Spartan
Alexander Tøtdal is a junior at Fargo North, however, this is only his first year attending the school. He comes from a place many of our North Dakotan ancestors once lived. Their cultural influence is still seen in our community to this day from common foods to yearly traditions.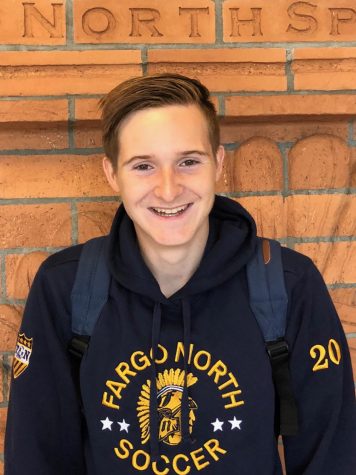 He has traveled far to get to Fargo. "I'm from a small town…" he said. He resides in Skjetten, Norway which, he added, sits about 15 minutes outside of their capital, Oslo. According to google maps it is a 14-hour plane ride to get to Fargo. Although with multiple connecting flights and layovers, he said the trip, "took almost a whole day."
Even though he was not born in North Dakota he is actually tied to the midwestern state because of family history.
His grandparents own a home in the Fargo area where they have lived for almost half a century. Even though Tøtdal typically is thousands of miles away from them, he said they have always kept in touch. "We see them at least once a year. Either they come here (Norway) or we go there. "I've met them plenty of times and talk to them all the time." So it's no surprise that their residence is where he ended up staying upon his arrival. "I was accepted for an exchange program but… my grandparents called and said I could stay with them," says Tøtdal.
Tøtdal's grandparents have lived in Fargo long enough that his mom attended North. "Her name is Kari Middaugh," he said. She participated in multiple varsity sports during her years at the high school including cross country with Gary Mailloux, who still coaches at North today. After graduating, she decided to continue her schooling at the University of North Dakota. "She went to UND and was accepted through an exchange program for six weeks in Norway and met my dad and the rest is history," Tøtdal said.
Even though Tøtdal had a couple familiar faces waiting for him when he arrived, moving to a new country is a lot to take in. Trying to fit into a new place, culture, and group of people can be challenging. This process certainly requires a person to adjust to a new life and lifestyle.
One thing Tøtdal said that he had to get used to was the way Fargo North functioned. He was not expecting some of the aspects that the typical North student has been accustomed to since middle school.
Tøtdal listed a few details about his school in Norway. "We get to have our backpacks. We get Mac Book Pros. We have 15 minutes between class and an hour and a half for lunch," some aspects he prefers over the rules and schedule implemented at North. Despite some courses being challenging due to the different language and terms used, Tøtdal has grown to especially like psychology, economics, modern United States history, and team sports.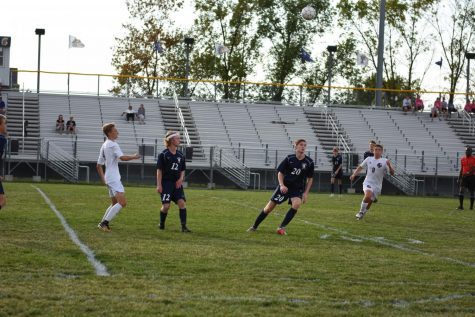 Tøtdal was also surprised to see that so many teenagers drive. He was not expecting this because the legal age to drive in Norway is 18 and even once they do get their license, most teens do not get cars. While riding in vehicles, he has noticed our speed limit signs. Like every other industrialized country, Norway uses the metric system. The unfamiliarity of the United States' standard system makes it hard for him to understand our common measurements.
Although adjustments have had to be made, Tøtdal expressed how easy it was to become a North Dakotan and Spartan. The atmosphere of Fargo and North helped ease the transition immensely for him.
"I adjusted fast because the people are really nice," he said. Tøtdal explained that he made a lot of friends through soccer and in his classes. In fact, his favorite thing to do on the weekend is hang out with friends from school and his favorite part about North is the students that fill the hallways.
Tøtdal will be staying in Fargo for the rest of the school year. One thing he is looking forward to is the snow melting. However, once the sun does start shining and summer begins, he will have to say goodbye to Fargo and go back to his home in Norway.