Senior Mason Bjorlie unveils new music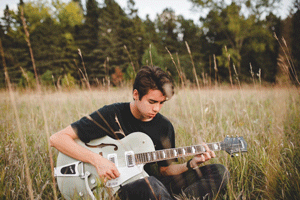 Jack Dorsher, Staff Writer
October 31, 2018
To senior Mason Bjorlie, deciding to make music was simply realizing there was nothing holding him back. What began as a creative outlet quickly became Bjorlie's greatest passion. He sits in the former room of a sibling who has moved out. Three desks come together in an L-shape and on them sits a variety of recording supplies. There are two speakers, one on either side of his computer and a Fender Telecaster hangs in the corner of the room. It's the perfect home recording studio for a kid just starting his journey as a musician. This room was put together by Bjorlie's own hands and finances. Little by little, Bjorlie accumulated the gear to turn a small bedroom into a functioning recording studio.
"I started acquiring gear slowly. I had a part-time job so I was able to afford gear otherwise I wouldn't have been able to get anything I have," joked Bjorlie.
Aside from playing piano as a youth, Bjorlie never established a background in music. He had always loved hearing music, so he listened to whatever music he could get his hands on.
"I would always try to find the coolest music and tell my friends, 'Oh, you have such great taste in music, can I have your playlist?'" said Bjorlie.
His desire to find new music inspired him to create his own music. Bjorlie began making music in the spring of 2018 when a friend introduced him to making music electronically on his computer. He downloaded a cheap, low-grade software and started to create in his home studio.  
"I've always thought, 'Why can't I make music? What's holding me back?' and I didn't think there was anything doing that other than just figuring out my craft and honing in on that," Bjorlie said.
Bjorlie would rush home from school after practice and spend hours in his room simply testing the software and playing notes on his keyboard, pouring out every idea he had been inspired to create. He tried out different sounds and inspected how effects were a factor in creating those sounds. He watched YouTube videos of his favorite musicians creating music to draw inspiration from. He attributes his greatest development in his musical style to friends.
"I've got a lot of friends that influence me to make music that are really great musicians," said Bjorlie. "They've definitely played a huge role in that."
One of Bjorlie's greatest mentors is a music producer and taught Bjorlie how to navigate the software. Once he became more proficient in using the software, he began to spend long hours learning by ear how sounds worked, practicing his composition skills. Bjorlie would spend upwards of five hours a day in his studio, spending long nights working on his music. The hardest part for Bjorlie was deciding who would do the vocals. Although he was never a singer, he wanted his music to come from him alone.
"I'd never sang in front of anyone before and I got a microphone because I definitely wanted to do my own vocals," said Bjorlie. "I didn't want to be bonded to another person to create a product that was in my vision"
That vision that Bjorlie has for his music stems from his wanting to be authentic when he creates his music. His home studio contains plenty of professional equipment capable of creating professional quality music, but he is comfortable with his music not sounding completely polished. Bjorlie strives to create a raw concept that he translates from his mind to sound. He hopes this will make his music easy for listeners to relate to.
"I've never wanted anything to be polished," Bjorlie said. "I just want it to be a raw concept."
Something Bjorlie prides himself on is his diversity between tracks. He is able to maintain the same style across his music, but he wants his music to have plenty of contrast, even within the same album. Bjorlie draws inspiration from many different genres, including jazz, pop, r&b, rap, and soul.
"I really like having diversity in music because I take so much inspiration from different genres," said Bjorlie.
Bjorlie published his first song, 'White Caps', in August. He followed that with the release of his second single, 'Fairly Well', in late September. Bjorlie has reached over 1,500 listens on Spotify with his first two singles and is ready to release more music in the near future.
"I'll probably release an album of six to eight tracks. You can expect every song to different than the last," said Bjorlie.
Bjorlie's first album is expected to be released in early November. For now, listeners can find Bjorlie on Spotify, SoundCloud, YouTube or anywhere music is streamed. Bjorlie encourages listeners to connect with him on social media if they like his music or if it speaks to them. Follow Bjorlie on Instagram @masonbjorlie for updates on new music and where to find it.