Football makes playoffs for first time in ten years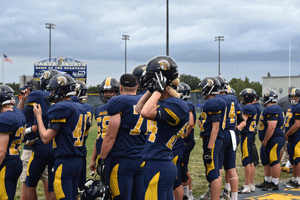 Hang on for a minute...we're trying to find some more stories you might like.
For the first time since 2010, the Fargo North football team is in the playoffs. North secured the fourth seed in the Eastern Dakota Conference and will face the top seed from the Western Dakota Association in the first round of the playoffs. The team found out that they had made the playoffs just before the made the trip to Mandan. Senior Jake Loberg was hanging out with his teammates when he heard the news.
"We we're just hanging out, waiting to find out if we made it. When we heard we did, we started jumping around," said Loberg.
The Spartans finished the season with a record of 5-4 overall, 3-3 in the EDC. North finished the season strong in their push to the playoffs, winning their last four games of the season. The Spartans started their playoff push with a conference win over defending state champions West Fargo. They then went on to win two road games in a row. The Spartans beat Grand Forks Red River 12-3 in a low scoring affair. The following week the Spartan offense got rolling, scoring 25 points to beat Mandan's 14.
North finished the season with a strong showing on senior night, defeating Grand Forks Central 34-14. The game was tied at half time but North pulled away when senior Austin Sparrow made a highlight reel catch over the Central defensive back and ran in for the 53-yard score.
"We won but we still need to play better to beat Bismarck," Sparrow said. "We have some things we need to clean up before we play Bismarck."
The Spartans will take on Bismarck High School in the first round of the playoffs, the number one seed from the Western Dakota Association. This will be a tough test for the Spartans as the Demons are undefeated this season, outscoring their opponents 257-51 in the process. Bismarck defeated Bismarck Century 36-22 to clinch the top spot in the West region.
"We need to force turnovers so our offense can play on a short field. Our offense needs to finish drives," Sparrow said. "If we do that, we give ourselves a chance to win."