Blood drive organized by Key Club sees large turnout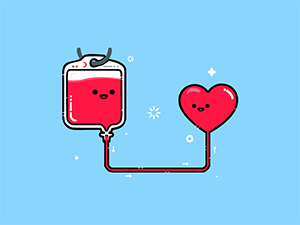 Hang on for a minute...we're trying to find some more stories you might like.
Key Club is an organization of high school students dedicated to service and leadership. The club's goal is evident for the Fargo North chapter. As part of their yearly initiative, they host a blood drive for students and staff to make donations.
The blood that is donated has an opportunity to change someone's life. It's a relatively simple but powerful act a person can make in order to help others. Blood is in high demand and every donation has the capacity to help someone in need. Transfusions of one pint of blood, according to Vitalant (formerly United Blood Services), have many different uses. The majority of donations go to inpatients, trauma, critical care, obstetrics, surgery, outpatient, and pediatrics.
This year the turnout at Key Club's drive didn't quite meet their overall goal like it has in previous years. There were many students participating in activities who may have otherwise donated.
"The entire theatre department thought the blood drive was great, but unfortunately many of us were unable to donate because of Newsies. It was a very physically intense show, and we couldn't take the risk of people fainting or vomiting onstage. We'll definitely be at the next one, though" said senior Signy Mastel. The same kind of circumstances applied to athletes with games and practices that day. There was also some students that tried to donate but weren't able to so because of a surplus of that blood type.
In the end, a total of 32 blood products were collected from 28 donors including plasma and double red blood cell donations.
"I think the Blood Drive this year was a success and it was great to work with Mrs. Blaufuss and the health careers department," said key club advisor Lori Koenig.
To ensure the safety of both the recipient of the blood and the one giving, the donor must meet a few requirements in order to give their blood. Donors must be at least 16 years of age with a parent's permission or 18 without. In addition, a donor's blood must have sufficient levels of iron and they also must be generally healthy. Lastly, those who donate must meet a certain weight requirement which is dependent on the person's height.
It is not at all uncommon for people to try to donate and be turned down because they do not meet the requirements. In particular, weight requirements are often an issue for females in high school. As a result, it's important to remember that you should not lie about your weight as it is not safe to donate under the weight requirement as those who are will likely faint.
Even if you missed the chance to donate at school, there are still opportunities to give blood in the community. Remember, every donation has the capacity to save someone's life.
About the Writer
Sienna Voglewede, Ad Editor
Sienna Voglewede is a senior at Fargo North and it's her first year working for The Scroll. She serves as the ad editor and a reporter. She is in wide...