Holiday Lights parade lights up Fargo-Moorhead area
On Nov. 20 the annual Holiday Lights Parade strolled across the state border from Moorhead into Fargo.
Approximately 70 floats lined up in preparation at Center Avenue and Eighth Street North in Moorhead where the parade began. All of the participants made their way west toward Broadway where they then turned north to finish out the final stretch.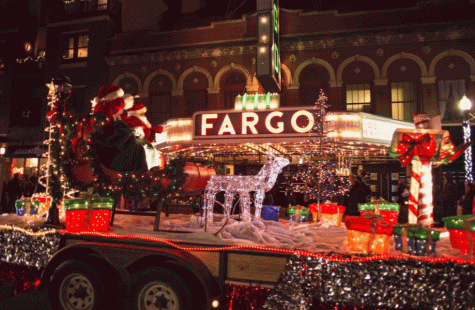 The parade began with several police vehicles, fire trucks, ambulances, and military groups. Notable city officials like Fargo's Mayor Mahoney and Chief Todd and Moorhead's Mayor Williams made an appearance. Additionally, news stations and countless companies and organizations followed in the lineup.
Along the way, people, often dressed as festive holiday characters, threw candy to eager children. However, as the name suggests, the real focus was the bright lights that decorated every single float that passed by. Many of the trucks and trailers even added holiday scenes and inflatables for an even grandeur appearance.
Fargo Parks hauled Santa's sleigh, Fargo-Moorhead ballet set up a Nutcracker scene, and Budweiser pulled a replica of the iconic Clydesdales. Multiple Grinches and Frosty the Snowmans were also there for kids to admire.
As the parade came to a close, about an hour later, none other than Santa and Mrs. Clause from Rheault Farm waved goodbye to the families that survived the cold temperatures. The celebration, although just an hour, surely entertained many and put all of its viewers in the holiday spirit.