Shoppers flock to retailers for deals on Black Friday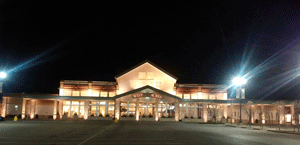 Jack Dorsher, Web Editor
November 29, 2018
Each year, over 115 million Americans flock to retail stores across the country in search of bargains and steals, participating in the phenomenon known as Black Friday. The day after Thanksgiving has become the most popular shopping day of the year, traditionally marking the beginning of the holiday shopping season.
Black Friday traditions began in the 1950s when individuals began calling in sick to work the day after Thanksgiving. Stores remained open, so people would get a head start on holiday shopping on their day off. Soon after, businesses began giving the day off and retail stores started to advertise spectacular deals that weren't available any other time of the year. The "Black Friday" moniker began being used in the 1960s when the Philadelphia Police Department used the term to describe traffic and downtown crowding. Ever since, Black Friday has been commonplace for avid holiday shoppers.
West Acres Digital Marketing Manager Niki Larson said, "Since Black Friday has been around it's been part of our culture [at West Acres]. I've been around for five years now and it's always been here."
 To prepare for the huge influx of shoppers, stores will set special hours, hire additional employees, and beef up security to ensure the safety of customers. This year, the West Acres mall, a popular Black Friday hot spot, will make use of vacancies by having games and activities for shoppers to enjoy. They will also be adding amenities to make shopping less stressful and easier for the customer.
"We make sure we are doing everything we can to provide a safe and enjoyable experience for out customers," Larson said. "It evolves as years go on and we learn different ways our customers are shopping and what their needs are."
Black Friday has seen competition recently with the rise of Cyber Monday, a day on which customers can find Black Friday-esque deals through online retailers. Although Cyber Monday has become more popular, the Black Friday traditions have kept customers going out in droves. According to sales figures, Cyber Monday has had little effect on Black Friday numbers.
"So many stores have extended their sales further than just Black Friday," said Larson of how brick-and-mortar stores have kept ahead of Cyber Monday. "Sales start creeping up on even Wednesday during the day before Thanksgiving and continuing through the weekend."
Some of the stores that recurring Black Friday shoppers are looking to visit include Best Buy, Walmart, JCPenney, and Macy's. These retailers have started offering discounts earlier and earlier in an effort to increase sales in material stores. West Acres mall will feature artisanal pop-up shops selling local and festive goods as well.
"You have to hit up the electronics retailers. Best Buy is a good one and a lot of the big-box stores like JCPenney and Macy's," said frequent Black Friday shopper Jack Boub. "Even though they might not seem like they have what you're looking for, they always have the best deals."
Regardless of your opinion on Black Friday shopping, the trend doesn't look to be slowing anytime soon. Over half of all holiday shopping is done on Black Friday, accounting for $682 billion spent in 2017. That is a 4% increase from 2016.
Boub said, "I think it's definitely become more popular. Every year when you wait in line you see more and more people lining up."
Financial website thebalance.com predicts sales to grow yet again with over $715 billion dollars being spent this year, a 4.3% increase from last year.