Fantastic Beasts: Crimes of Grindelwald is a solid sequel but not fantastic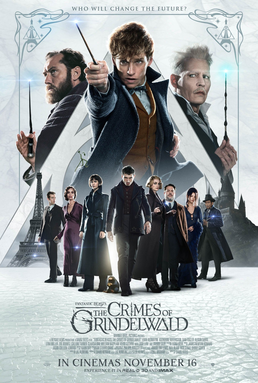 Hang on for a minute...we're trying to find some more stories you might like.
Fantastic Beasts: The Crimes of Grindelwald is the second addition to the five part series which has utterly taken the Harry Potter universe and given it a whole new face. Harry Potter is evidently still a staple when it comes to literature and movies, however, Fantastic Beasts could change the way we think of the series as a whole.
A lot of what makes Rowling's stories so fascinating is the thought that was put into them. Every character, location, creature, event, and more seems to have depth and purpose (not to mention children and adults seem to enjoy the series equally and it's just wonderful to read.) Despite mixed reviews from critics, I think the second addition to the Fantastic Beasts does a wonderful job thickening the gravy of the Harry Potter universe.
Unlike the originals, we don't have books to reference. This causes some plot points and character background to be slightly convoluted especially if one does not know much about the series as a whole. However, I don't foresee this being a major problem as the majority of people who will go to Fantastic Beasts are either avid fans of J.K. Rowling's work or people who at least have a knowledge of the books and movies.
One thing that is clear about this addition to the story is that it's not a stand alone movie. The first movie wasn't either but for some reason it felt more like it could've been. As a viewer, it was clear to see that Newt Scamander in Fantastic Beast and Where to Find Them (played by Eddie Redmayne) had truly accomplished something in the end as it had been built up throughout the entire film. Crimes of Grindelwald didn't really have this same type of satisfying conclusion as the last movie did. This movie, on the other hand, seemed to just focus on establishing characters and connections for upcoming films. Another observation I came across when I compared to the two films was the style and pacing of each. Fantastic Beasts and Where to Find Them seemed to have more a whimsical, fast-paced, and action oriented style than it's recently released sequel. One of the biggest action scenes in Crimes of Grindelwald took place within the first 10 minutes and nothing really topped it going forward. Depending on your taste in movies, this has the potential to be a good or bad thing. I, for one, didn't mind the way Crimes of Grindelwald was more subdued and serious.
On its own, Crimes of Grindelwald definitely had some things to offer. A good soundtrack can make or break a movie for me and the large orchestral sounds that coincide this franchise as well as this movie specifically did not leave me unsatisfied by any means. The music in this movie isn't extraordinary but does maintain the standard that was created by titles previously.
Another great part about this movie is the casting. All the characters feel natural in their roles especially given the new inclusions of Jude Law as young Albus Dumbledore and Johnny Depp as Grindelwald himself. Even in the beginning stages of this five part saga, you can tell Grindelwald has interesting motivations and I find him to be a more intriguing villain than Voldemort was. I think Johnny Depp conveys this depth of his character while at the same time maintaining the role as a menacing antagonist. And, of course, Eddie Redmayne does a great job playing the slightly awkward hero, Newt Scamander.
Fantastic Beasts: Crimes of Grindelwald wasn't the perfect movie by any means but it definitely served its purpose. Anyone who enjoys the Harry Potter universe regularly should go see the this installment (although I'd bet these people don't need me to urge them). I would be interested in seeing it again in the future.
About the Writer
Sienna Voglewede, Ad Editor
Sienna Voglewede is a senior at Fargo North and it's her first year working for The Scroll. She serves as the ad editor and a reporter. She is in wide...