North boy's basketball unable to secure win against Davies
The Fargo North Boy's basketball team faced Davies on Friday, December 7th. The game took place at Fargo North making this matchup their season debut in the Spartan Dome.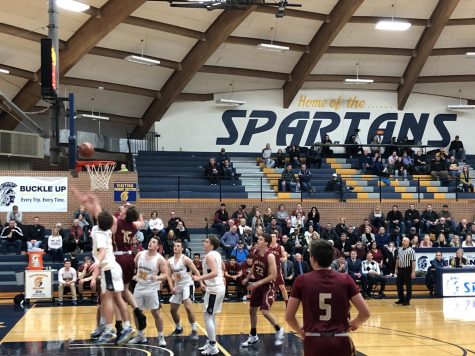 The game began with seniors Jake Loberg and Jonas Geston, and juniors Carson Critchley, Blayne Anderson, and Cayden Rickard taking the floor. Davies won the tip off and quickly secured a demanding lead. With a little under 9 minutes left in the first half, Davies was ahead 23-6. Although North fought hard, the halftime score ended with the Eagles ahead 44-13.
The second half for the Spartans began with a 2-point make from Loberg. The boys kept things rolling with Geston and Critchley both knocking down shots. Rickard also never failed to keep the energy high and the Eagles on their toes with aggressive offensive attacks. In the end, Loberg led the team in rebounds and Rickard and Critchley were team high-scorers. 
Despite their efforts, North wasn't able to pull ahead and ended in defeat against Davies 39-77.