Fargo North Swim & Dive vs Moorhead Recap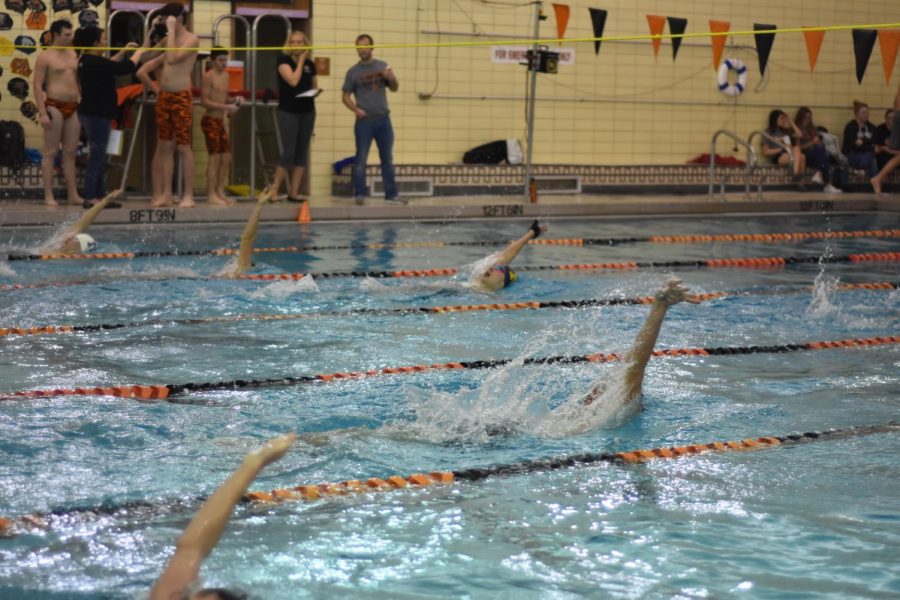 Sienna Voglewede, Ad Editor
December 12, 2018
On the evening of December 11th, Fargo North boys swimming and diving faced off in a duel against the Moorhead Spuds. The Spartan swimmers and divers put their best flippers forward and ended up with an incredibly strong showing. They beat the Moorhead Spuds by 51 points, ending the meet with 118 points in comparison to Moorhead's 67.
Both the swimmers and divers performed well. In the diving competition, Clay Schultze, a senior at Fargo North, placed first with 160.9 total points, beating the second place finisher from Moorhead by just under 40 points. Quame Rauls, who is also a senior, placed 4th in the competition.
In the swimming portion of the meet, North sealed the deal with five first place finishes in individual events. These included Payton Gabel in the 100 yard butterfly and 200 yard freestyle, Caden Boutwell in the 100 yard freestyle, Peyton Fisher in the 50 yard freestyle, and Noah Hoffman in the 100 yard backstroke. The Spartans also swept the relay events across the board.
Although the Spartans' performance was impressive, it didn't exactly come as a surprise to them. "This year we are looking to be one of the top teams in the state," Fargo North senior and captain of the swim team Payton Gabel said. "In the first weekend, we had 10 people qualify for state."
The boys have a lot to forward to this season and have big shoes to fill. They placed first at EDC and placed seventh at the State meet last year. With a strong group of seniors to lead the way and underclassman who have great potential, the Spartans are bound to be strong throughout the entire season.