"The 1975" reinvents themselves once again with new album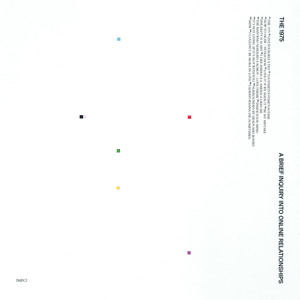 Jack Dorsher and Dawson Lindahl
December 14, 2018
The 1975 is back with their third studio album "A Brief Inquiry Into Online Relationships" which was released on Nov. 30. This album comes more than two and a half years after their sophomore record, "I Like It When You Sleep, For You Are So Beautiful Yet So Unaware Of It" was released. The album, which went number 1 in the United Kingdom, discusses complex themes of relationships in the modern world and the effect technology has on these relationships.
Lead singer Matty Healy, the main songwriter for the band, has been known to write of relationships and chemical dependency. He brings a new perspective to this album after he resolved his addiction to opiates during the writing of the record. For seven weeks during the album's infancy, Healy attended rehab in Barbados. This experience prompted Healy to write "Give Yourself A Try," the lead single off the album which was released Jun. 1. This single hearkens back to the days when The 1975 operated under a different moniker, playing their perception of American punk music. The song discusses the wisdom that comes with age while criticizing millennial culture.
A total of five singles were released prior to the release of "A Brief Inquiry Into Online Relationships," beginning with "Give Yourself A Try." This track was followed by dance pop tune "TOOTIMETOOTIMETOOTIME," generational critique "Love It If We Made It," jazz influenced "Sincerity Is Scary," and instant The 1975 classic "It's Not Living (If It's Not With You)." These songs were hits among fans, easily placing these tunes among the top six tracks on the album. However, one song outdid all of these singles, along with everything we had previously known about The 1975.
The title of "I Always Wanna Die (Sometimes)" sounds like an emo pop punk anthem. Despite its dark nomenclature, this song sounds like a 90s anthem with its grunge guitar sounds and vocals.
This song is surprisingly hopeful when you listen between the lines. In an interview with Beats 1 radio station, Healy says, "Everyone's had thoughts of killing themselves but thinking about it and planning it are two very different things." This song addresses the difference between plotting to take your own life and questioning your life's importance to those around you. Using "I Always Wanna Die (Sometimes)," Healy encourages anyone struggling with mental illness to seek help and understand the value of their life.
The band accentuates the album's meaning with interlude "The Man Who Married A Robot." Without the inclusion of this Siri-spoken track, the theme of online communication would not be as prevalent. The album discusses all forms of relationships, but it is this song that ties it all back to the internet and its role in our lives.
The best of the original five singles is easily "It's Not Living (If It's Not With You)." This is arguably the best lyrical song on the album as well. In this ode to addiction, Healy discusses his deep adoration for heroin with an ironic undertone. Healy has clarified countless times that he would never condone the use of drugs, and that he would feel irresponsible if it were not made completely clear that he is not proud of his drug use. Without knowing Healy's deep history with heroin, (or reading the "Genius" annotations,) this song is seemingly about a girl that Healy is obsessing over. The chorus of this song is beyond catchy, echoing "Collapse my veins wearing beautiful shoes, it's not living if it's not with you."
While "A Brief Inquiry Into Online Relationships" is by no means the best "The 1975" album we've heard to date, the attention to detail with the lyrical intensity of this album has never been seen. Healy's recent sobriety has seemed to revitalize the band, restoring his confidence in songwriting and his will to create. The central concept to the album is incredible; personal relationships are more important than relationships through a screen.