The Blenders back in Fargo for Christmas
From Dec. 18-23, a group of Fargo natives took the stage at the downtown Fargo Theatre.
Named The Blenders, this acapella ensemble consists of four male members, all middle-aged. They have been performing and touring the United States for almost 30 years. Throughout their journey, they have obtained a large audience for their music. This was no different in Fargo where The Blenders sold out all six of their shows.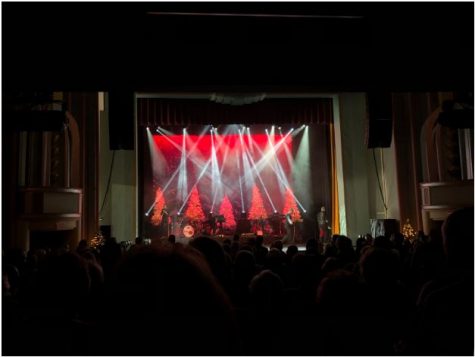 I attended their Dec. 19 performance where they began by introducing themselves and assuring the audience that we were going to have "More fun than legally acceptable on a Wednesday night." They proceeded to sing their first song. It was an upbeat version of "The Little Drummer Boy", a variety that I had never heard before. The band which was made up of a pianist, drummer, guitar, and bassist accompanied the group during this song and the majority of the rest.
In addition to the instruments, the members entertained the audience which synchronized choreography. The dance moves were rather tacky but the ensemble performed them with energy. They moved around the stage so much that they had to keep towels nearby to wipe off their sweat in between arrangements.
The Blenders did slow things down every once in a while as they sang completely acapella which is what they are known for. The first of which, "O Little Town of Bethlehem", showcased the true abilities the ensemble had to offer. Their awareness of each other created a balanced sound that displayed their pleasing harmonic style.
As the concert came to a close, The Blenders finished out their set list with "Love Train", during which they invited audience members to dance. Considering the audience was mainly older men and women, not much dancing occurred. However, as expected, the singers put on a show with their choreography and lively performance.
Afterward, they exited the stage only to come back to sing a couple more songs for an encore. They sang one last completely acapella classic, "Silent Night." Their final performance of the song "Do You Hear What I Hear" was an energetic cover with a heavy drum beat and multiple small guitar solos.
The acapella group did not fail to impress Fargo this year with their holiday concert that put everyone in a Christmas mood. They joked that they hope they will be back here performing still in 30 more years. The Blenders waved goodbye after voicing their thank-you's to everyone involved in the concert and to the audience for their loyal support.