How to be a proper Airpod user
Tanna Schloesser
January 15, 2020
It's that time of year again when kids are returning to school with their new Christmas presents. Girls are walking in with brand new Ugg boots and Patagonia half zips. And boys are walking in with new LuLuLemon joggers and Nike shoes. Undeniably, this year's best and most received Christmas present though was Apple's Airpods. It was social media's main source of ideas for memes as well. Memes about how Airpod users are part of the new social hierarchy, a whole new and different caste system at schools, and how users see themselves as the rich of the rich. If you have Airpods you're the cream of the crop, but you can't be a proper user if you don't have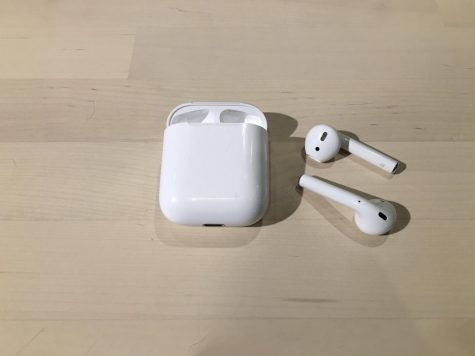 pay for a music subscription. Especially the main and most popular music apps, Apple Music or Spotify.
Apple music has many benefits. For a monthly subscription of $10 a month (the first three months are free), you have many advantages over other apps such as Youtube. You get a huge library of all kinds of music and you also get offline listening. You can download any song and listen to it offline, which comes in handy if you can only use a set amount of data. You can also connect with your favorite artists easier. Artist profiles have "connect" tabs that include pictures, descriptions, quotes, lyrics, and videos that give you a personal experience and helps you understand the artist. Lastly, you can listen on Iphones, Macbooks, Androids, Apple watch, and Windows.  
Apple music doesn't come without flaws though. Users have said that the app is cluttered and confusing. It has a messy design that makes it un-Apple like. Also, Apple music has no free version like many of its competitors like Spotify, Youtube, Google Music, and Pandora.
Spotify, on the other hand, seems to be more popular with kids right now, especially college students. Students can get a 50% discount and can have their payments bundled and receive rights to watch Hulu and Showtime. If you're not a student though the regular monthly price of Spotify is $10.99 by itself (with the first three months being $0.99) or you can bundle with Hulu for an extra for $12.99 a month. Spotify has many advantages as well. Like Apple music you can download music, use it on any device, and connect with artist. You can save all your music and the app even provides special playlists that relate to your listening. When upgrading from the free version you get unlimited skips, normal or high quality listening, and you get access to brand new albums the second they drop.
There are some disadvantages sadly. Most of them having to do with its free version such as you can't download music or have unlimited skips. Also Spotify isn't available in every country. These are overlooked by many of the users though.
I hope this comparison helps many of you Airpod users help find a new music subscription to pay for so you can listen to your music with your new headphones. I also hope it helps you reach social acceptance and a proper way and understanding of how to use your new Christmas present. Most of probably already pay for one of these apps.