Spartans upset #1 Grand Forks Central in EDC baseball first round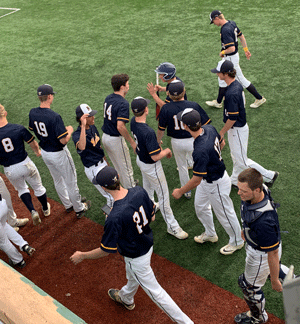 The Spartan baseball team began EDC play on Tuesday, May 21 with a first-round matchup against Grand Forks Central at Kraft Field in Grand Forks, ND. North entered the tournament as the #8 seed after beating Fargo South in its final regular season game. This set up a matchup with #1 seed Grand Forks Central. Central had beaten the Spartans 8-3 in their previous meeting, making them extreme underdogs in this first-round game.
Fargo North ace Blake Anderson took the hill for the Spartans and Central's Zach Vodden was the pitcher in the top half of the inning. Vodden walked the first batter but struck out the next two in the top of the first. Anderson was picked off by Central catcher Parker Stroh to end the inning. Central wouldn't score in the bottom half of the inning.
Central finally scored in the bottom of the second when Cole Wigestrand hit a chopper past third baseman Dan Christianson scoring Vodden. Anderson struck out the next batter, ending the inning. The Spartans answered in the top of the third with Mikey Hallquist scoring on a Payton Reed single to right field. Caden Headlee followed with a walk to load the bases but Peyton Fisher struck out to end the inning.
For the rest of the game the Spartans and Knights went back and forth, neither team able to create an offense. North pitcher Anderson threw 8.1 innings allowing just one run on four hits and four walks, while striking out eight. Central's Vodden went eight innings also allowing one run on six hits and three walks, striking out eleven in the process. These dominant pitching performances meant the game would remain scoreless through the seventh inning and head to extras tied 1-1.
The game finally opened when the Spartans erupted for five runs in the top of the 10th inning. After a Reed fly out to open the inning, Headlee doubled into left to start for the Spartans. Central replaced Vodden on the mound with Stroh who gave up a walk to his first batter faced. Boutain then walked bringing up pinch hitter Jack Dorsher with the bases loaded. Dorsher singled into left on a 1-2 count, bringing in Headlee and Fisher and putting North up 3-1. North wasn't done yet, however. Danny Boutain singled into left, scoring Joe Boutain and putting the Spartans up 4-1. Hallquist struck out bringing up Anderson who doubled off the top of the fence in left field, scoring both Dorsher and Boutain, putting the Spartans solidly in the lead at a score of 6-1.
The Knights had no answer as they went three up, three down at the hand of relief pitcher Reed in the bottom of the 10th. Reed would collect the win for the Spartans and Stroh took the loss for Central.