Groundzero: A North High Students Take On Jazz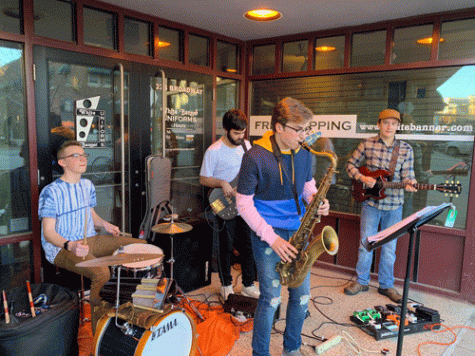 Riley Johnson is a junior here at north with the unique talent of drumming. He has been a drummer for years, taking lessons from a private teacher here in Fargo. This not only was the basis of his interest in jazz but it is also his love for music. Riley listens to new age jazz such as music by Steven Feifke and Charles Goold. Last year Riley and a few of his friends, Giancaro Yanes-Martinez and Keaton Will, helped form Groundzero, a new jazz group that performed for the fun of playing.
His band was not that big in the beginning, "We started playing on the street downtown, it's the t intersection, we started playing down there, then we decided to start looking for gigs," Riley said during his interview. The first year of the bands existence was spent rehearsing, hanging out, learning how to groove with each other, and street performing. Soon the band started to get invitations from different musicians and owners asking them to play for their venue a given night.
One such musician is Kenny G, a rapper from Fargo who performs live often. He approached the boys on the street at their typical T intersection and asked them if they would be willing to play with him at a concert of his. From there on out, the band was making themselves known.
According to Riley, one part of what makes the band great is how they bounce their enthusiasm and musicianship off each other. Watching these guys play is a pleasure and it just lights yourself up watching these bouncy fun guys enjoy themselves, each other, and the music they are playing together. Not only are they great friends, they are great muscians. Riley consistently earns awards, and recognition for his musicianship and talent in both jazz band and north's concert band.
The band plays most weekends at different venues, but sometimes you'll catch them playing on the street where they started out. Do yourself a favor and check out these great guys live. Make sure to follow the band's Instagram: @groundzerofargo for performance dates and venues. Other bandmates include, Jacob Pfeifer- Tenor Saxophone, Giancarlo Yanes-Martinez- Bass guitar, Keaton Will- Electric Guitar, and Ben Kensok- Tenor Saxophone.