Boy's soccer 4 year losing streak due to Crystal Pepsi
Losing is part of life. It's something that no one really enjoys but everyone at some point endures. If you're in athletics, you probably know this feeling all too well. We all do. But if you play Fargo North Boys Soccer, this is the only feeling you've ever had. The Spartans varsity soccer team hasn't won a game in four years. This is a grand total of over 60 games. That means the current seniors have never walked off the soccer field as winners.
You can only imagine how discouraging and frustrating this may be. However, despite this fact, the boy's soccer program flourishes with over 50 students in the program. The 21 who are on the varsity roster have recently named this losing streak the Crystal Pepsi curse and added the hashtag "break the curse" with full intention to finally be victorious after the last whistle is blown. Crystal Pepsi is a soda that was first sold and distributed in the early 1990s. It was discontinued in 1994, however, in 2015 a song called "The Crystal Pepsi Song" was released in an attempt to get Pepsi to again sell their clear beverage.
After this song was released, two seniors from a previous graduating class from North named Hunter Hassebrock and Charlie Thielman enjoyed the tune and added it to the boys' soccer pre-game playlist. They didn't know how much a simple song would impact the program.
Garrett Krom, a junior at that time and now an assistant coach explained how much it affected him. "As a player, I went through straight depression for two years," said Krom.
The feeling is quite mutual for the current players. Jake Harmon, a senior and co-captain added that "it's been really sad."
Senior and co-captain, Jaden Zander, explained how losing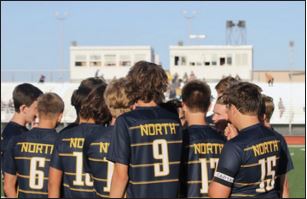 has affected his social life too.
"We've gotten a lot of crap from other people and other schools for not winning a game," said Zander.
Although the losing streak has been going on for years, the curse wasn't named till this year. In fact, none of the coaches even realized the supposed curse had a name until they were interviewed.
"I didn't know it was called that. I knew that the curse was from something, but I didn't know it was that song," said JV coach Hunter Brekke.
Head coach, Jace Duffield, was in the same boat. He learned about the curse shortly before I interviewed him from players and was rather bewildered.
"The last 15 minutes have been a little rough… a little worried that our guys believe in curses, but we will get through it."
Both coaches agreed that there is really no curse. However, they do believe that the supposed one that the boys believe in may still be affecting them.
"I feel like that's a mental barrier that could be standing in the way," said Brekke.
Despite the different views as to whether the curse is real or not, the coaches too would like to start winning. To achieve this, they have had to make some changes.
"It has made my practices more directed at what we need to build so… practice is focused on what techniques we need to learn and what tactical knowledge we need to learn," said Brekke.
With the intentionality of the coaches and the eager, determined mindsets of the players, the Fargo North boys' soccer team plans to secure a win this season. They look forward to hopefully having at least one home game on the new turf currently being installed at North and already have a new playlist made if that time comes.