Come grab a bite to eat at the Wurst Bier Hall.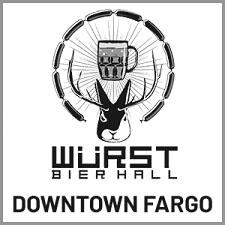 Owned locally by Lisa Meyers, Wurst Bier Hall is a restaurant located at 630 1st Ave N. Walking in, I was pleasantly surprised. I half expected it to be something slightly formal and had people dressed very business esc, I was wrong. The setting is a grill/bar with a very homey feel to it. The walls are covered with original artwork by local professionals, televisions showing the current news or sporting events, and chalkboards with the menu items and deals that the restaurant has at any given time. You seat yourself at any one of the open picnic bench style tables in the establishment and you are thereafter greeted by a server ready to get your drink order. I got a root beer and it was very good, it was on tap so it wasn't any name brand like other restaurants offer.
After I was given my drink I was then given a chance to look at the menu. I decided on three menu items that would give the best overall experience of the restaurant as a whole. The Bacon Flight, The Haus Burger, and the Sausage Platter with Giant Pretzel. First up was the Bacon Flight, this item was $5 and gave you one strip of four differently cooked, seasoned, and glazed slices of bacon. The first we tried was called, "peppered," this was exactly as the name suggests, a peppered strip of bacon. It was thick cut, but that hardly mattered because of how quickly the fat on the strip melts in your mouth, it's delicious and feels great to eat. Next was the, "Guinness glaze." This was the same thickness as the previous strip, the glaze was nice and smooth, very sweet also. Third was, "brown sugar." This, like the previous strip was sweet, but not too sweet, and once again, melted in your mouth as you ate it. The fourth and final strip we got was called, "hickory smoked." This one was by far my favorite. It was smokey, crisp, fresh. It tasted like your traditional strip of bacon you'd eat on a sunday morning for breakfast. Overall, this platter is fantastic, it's a great way to keep yourself hungry yet give you a great taste of the amazing food you're about to get.
As an appetizer of sorts, I ordered the $10 Haus Burger. This was your traditional bacon cheeseburger with lettuce, pickles, and onions. Another thing that this burger had was a certain sauce called the "haus sauce," I didn't know what it was, but it was very very good. The burger itself wasn't too thick but it was cooked beautifully and tasted amazing. The best part about this burger was the crunch it made when you bite into the lettuce and onions.
The third item we ordered was the $30 Sausage Platter and Giant Pretzel. This was a large serving platter meant to feed three to four people. When you order the platter you are given the choice of three different wursts between the mettwurst, bratwurst, german, polish, hot italian, chicken apple, bleu cheese, jalapeno cheddar, linguica, philly cheese steak, buffalo bleu, or the hawaiian. I chose the philly cheese steak wurst, the hawaiian wurst, and the chicken apple wurst. Along with these wursts you get a very very large pretzel bigger than my head, some beer cheese dip to go with the obscenely large pretzel and some toppings to eat with your sausages. Among these are, jalapenos, sauerkraut, potatoes, onions, and peppers. First, I started with the hawaiian wurst, which was very good. It was very sweet, like it had been cooked with fruit. It hits you quick but leaves a pleasant aftertaste. The casing of this sausage was a little difficult to get through but that was probably just me. Second was the philly cheese steak, it stays true to the name, it tastes exactly like a philly cheese steak. I tried it with jalapenos and onions and the spice wasn't too overpowering, it complemented the flavor of the sausage nicely. This wurst also had bits of cheese in the sausage itself, they were a nice touch. The last sausage we had before digging into the pretzel was the chicken apple wurst. This one was interesting to say the least, it tasted like chicken, but had bits of apple within the sausage itself, it was unusual, but not bad at all. I really liked it. The pretzel was my favorite part of the entire meal. It was soft, fluffy, and the beer cheese tasted fantastic.
The Wurst Bier Hall was a fantastic experience. Friendly staff, great food, all at a great price and location. The inside of the establishment itself was fun to look at. Dietary options are taken into consideration too with the option to substitute the traditional burger bun with a gluten free alternative. I give this a five out of five spartan heads, the only thing that could make this experience any better would be to get a dedicated parking lot because my parallel parking was not up to par.