Senior Peyton Fisher's exceptional swimming career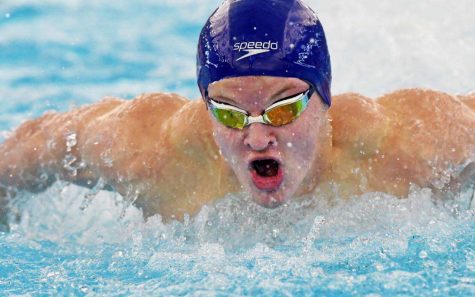 Many people might know Peyton Fisher as a Fargo North football playmaker, a Longfellow alumni, or a corndog connoisseur, but fewer people know him as terrific swimmer for the Fargo North boys swim and dive team.
"I have been swimming since I was 6 years old. I was just always around the pool, and hockey was expensive so that wasn't really an option," said Fisher. This is unsurprising as his father is head coach for the North boys swimming team, his mom is the head coach for the West Fargo boys swimming team, and his older brother was a great swimmer for North only a few years ago. However, Fisher was not always gifted at swimming.
"I was really bad when I first started, I would always lose, and I couldn't do a start. I would get very upset because I didn't like losing. That pushed me to become better," said Fisher. Before football was a major priority in Fisher's life, he was swimming year round. "During sixth through eighth grade I would be swimming 8 months of the year. I would swim four or five days a week and around 4,500 yards."
Another thing that helped Fisher become a better swimmer was that his older brother Coghlan Fisher was always there to push him. "He pushed me like a brother would. He was someone I looked up to on the team. He taught me how to work hard," said Fisher. The two brothers also became very close because of swimming. "Coghlan drove me to practice everyday, and we would go do workouts together. We spent a lot more time together doing something we love."
For all six years Fisher has been on the swim team, he has qualified for all eight individual swimming events, which are the 500 yard freestyle, 200 yard freestyle, 100 yard freestyle, 50 yard freestyle, 100 yard butterfly, 100 yard backstroke, 100 yard breaststroke, and 200 yard individual medley. Each event has its own qualifying time that can be met anytime throughout the season.
"The first time I qualified for every event I didn't even realize it. It was at the end of the year when I looked at the wall of state qualifiers that I saw my name under every event. Then I did it again in eight grade, and from there I had the goal of doing it every year." said Fisher.
"Out of the eight events my favorites would be the 100 fly and the 100 breast, and my least favorites would be the 500 free and the 100 backstroke," said Fisher. This is understandable given that Peyton has swum his two favorite events at the state meet nearly every year, and placed considerably well in each. "Last year I was second in the 100 fly and fifth in the 100 breast," he continued saying.
The Fargo North swim team not only breeds a culture of hard work and competition, but also brotherhood and fraternity. "There is a friendly rivalry between me and Noah Hoffman on who can beat the other in the 100 fly. We are both similarly matched, so it drives both of us to become better." said Fisher. Fisher and a couple other lads on the team have remained close over the last six years of their involvement. "Gunnar Hager, Eric Meier, and Nick Crommett are all great dudes, and we are the only seniors who have stuck with the program for all six years. So, we have gotten to know each other very well." he said.
The boys do all sorts of things to bond during road trips and at hotels, including, but not limited too: playing poker with snacks, watching "Grey's Anatomy", and smashing out on "Super Smash Bros" on the Nintendo Switch.
There are many people who might be surprised to hear that Fisher is an exceptional swimmer given the fact that he has committed to UND Division 1 football just last summer. But swimming has always been a way for Fisher to stay in shape and continue to get faster, quicker, and stronger as he starts his transition to become a collegiate athlete in the fall of 2020.
About the Writer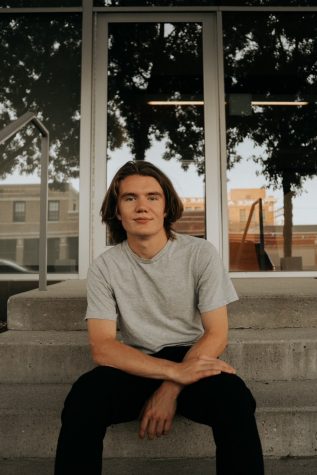 Tate Schloesser, Co-Editor-in-chief
Tate Schloesser is a senior at Fargo North. He is Co-Editor along with Elly Kenninger. Other activities Tate is in include; track, football, soccer, debate,...