Fargo North Stuco fills the dome
Hang on for a minute...we're trying to find some more stories you might like.
As many North High students and families know, working together to help our community is something our school values immensely. When it comes to people in need, North is more than willing to help out, ranging from filling and distributing sandbags, donating money to North families and making all sorts of donations to the Open Door for students in need. That is why every year North participates in the annual Fill the Dome.
Fill the Dome is an organization started in 2007 by student council leaders from all high schools in the Fargo Moorhead area.The Metro Area Student Ambassadors, or MASA for short, was previously comprised of 22 high school students from 11 high schools in Fargo, West Fargo, and Moorhead area. This year they added Kindred, expanding even farther west.
"MASA has been amazing, it's super eye opening. I really didn't know what Fill the Dome was before I was in it, and being in it I get to see all the contributions my school is doing for the community," said Ally Frier a senior at Dilworth-Glyndon-Felton (DGF) High School.
The entire goal of Fill the Dome is to fill the entire Fargodome floor with food donations for the Great Plains Food Bank who will then distribute the food all across the state and western Minnesota.
Since 2007, Fill the Dome has raised over 2.3 million pounds of food and over $553,000 towards ending hunger in the entire state of North Dakota and Clay County Minnesota. Every year a theme is selected to help raise food. This years theme was "No Space for Hunger", implying that there is no space for hunger in not only our community, but also North Dakota.
North Dakota, while better off compared to the rest of the country, still struggles significantly with hunger. It's estimated 1 in 14 people in North Dakota are hungry and 1 in 10, or 10%, of North Dakota's children are hungry. By those ratios there are roughly 55,000 people in North Dakota who go hungry and almost 17,000 children who go to bed hungry every night. Based on the 2018 Charitable Food Network, North Dakota Hunger report, 8.8% of people live with Food Insecurity. Food Insecurity is "limited or uncertain availability of nutritionally adequate and safe foods or limited or uncertain ability to acquire acceptable foods in socially acceptable ways." Over 15,000 North Dakotans struggle with finding nutritious and safe food to consume in order to maintain a healthy lifestyle. Looking at these numbers, it is clear that hunger is a problem in North Dakota. No one should have to decide on whether to eat dinner or pay for gas.
One of the two representatives from North is junior Addison Hammes. This is her second year on Student Council, but only her first year in MASA.
"I can definitely see people viewing Fill the Dome as something less than what it really is, but when you're a part of it and get to see what happens and where the food goes, it has a much deeper affect on you," said Hammes.
Fill the Dome is not only helping your community, it's coming together to work as a team, no matter who you are or what school you attend, and working towards a single goal, that is what all members of MASA are striving for.
One of the great things about Fill the Dome is that people from all backgrounds and different schools come together.
"Even though we're not as big as other schools we still contribute a lot to Fill the Dome, and we surpassed our goal by a lot this year," said Frier. Even coming from a school who has very little people they still come together to make this event better.
Fill the Dome 2019 was able to raise 183,000 pounds of food. While that may seem like a lot of food, it will only last the Great Plains Food Bank about three to four months of serving people. Therefore, they are in a constant need for donations and help from the community. For every dollar donated to the Great Plains Food Bank, they can provide three meals for those in need. This goes to show that just a small sum of money could help out a person struggling. As Mother Teresa once said, "If you can't feed a hundred people, feed just one."
About the Writer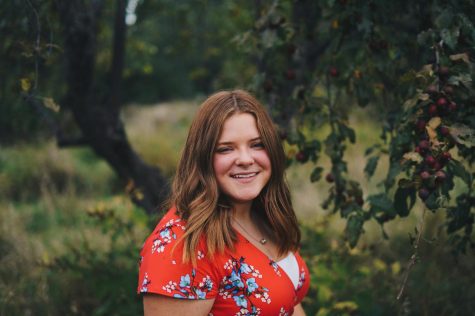 Andrea McClary, Ad Editor
Andrea McClary is a Senior at Fargo North High School. She is the Ad Editor of "The Scroll" and is involved in PAY and North's Key Club where she is...