Go to prom in style without breaking the bank
Spring is coming, which means the end of the school year is nearing… but first, prom! Fargo North's prom is scheduled for Apr. 18, which means planning and scheduling is likely on the mind of every girl going. With the recent progression of Coronavirus and online schooling, this date is likely to be postponed with hopes of it not being cancelled. However, even with the extra time due to the delay, planning for prom can be quite stressful as there are many things to consider\; the list seems to go on and on. And of course, everything costs money, something not many high school students have a lot of. Between the stress of scheduling and money it requires, prom can quickly take a turn for the worse and end up as a burden instead of a fun event. Luckily, there are a few things you can do to keep prom planning stress free at a low cost!
First, roughly planning out your outfit and the prom-day festivities ahead of time can take a lot of stress away. I suggest that you make a list so you know everything that needs to be done come prom day. Additionally, if you delegate some of these tasks to other people in your group, that can help take a lot of stress away from yourself too!
Secondly, start planning early! It's important to remember that businesses will be busy on prom day! Not only will you be searching for these places, but so will every other teenager. Additionally, prom is on a Saturday, which in itself yields busier crowds from the general public.
If your prom group wants to eat at a restaurant, search for a place that takes reservations. This will save you time and hopefully reduce any minutes you would have sat waiting for a table. If you're looking to have a more low-key meal, consider eating with your prom group at someone's house. Make a "fancy" dinner and avoid worrying about long waits, reservations, or big bills. This can make for a much relaxed and intimate time among your friends during the chaos of prom day.
If you are looking to get your hair or makeup professionally done, book appointments early too. Spots fill up fast! Before booking at a salon, it's worth the time to do a little research on your own and look at individuals, like traveling hair stylists or makeup artists. They tend to be cheaper than salons and often don't charge traveling fees if you're in or around their area!
Now, probably the biggest stress is finding a dress! Prom has become such a pricy event with the dress tending to cost the most. At shops like Leanne's or RSVP, both located by the West Fargo Target, the dresses tend to range between $300-$500 for a new dress. That's a lot of money for something you are only going to wear once! If you do end up finding a dress at one of these stores, I suggest looking for it online. There tends to be online stores that sell the same exact dresses or a very similar version for a lot less. In general, online stores have cheaper dresses and some offer free returns if you order the wrong size, so take advantage of this! If you're eery of buying online, try shopping at a thrift store or consignment shop to save money. Formally yours, off of Main Ave., is the only dress consignment store in Fargo, and has a huge selection of prom dresses in addition to their wedding section. Most of these dresses range from $100-$300. Thrift stores often have prom dresses around springtime too! Most of them look a little outdated but if you like sewing, or know someone who does, reconstructing a thrifted find into a more modern dress of your liking is a serious money-saving option! One last place you can look is "Fargo/Moorhead Prom Buy/Sell." This is a group you can request to join that has tons of prom dresses that people are looking to sell. Most of them are around the $100-$300 range, however, many people are willing to negotiate or rent for lower prices. This can be a great alternative to buying used as most of the dresses on the page were worn recently and are still very much in style compared to some that you may find at a thrift store or consignment shop.
Overall, prom can be a very daunting event, but hopefully, these tips help take away some stress and save you some money. Even though our 2020 prom is up in the air right now, I urge you to stay hopeful and keep your prom agenda in the back of your mind so you're prepared when/ if the day eventually comes!
Leave a Comment
About the Contributor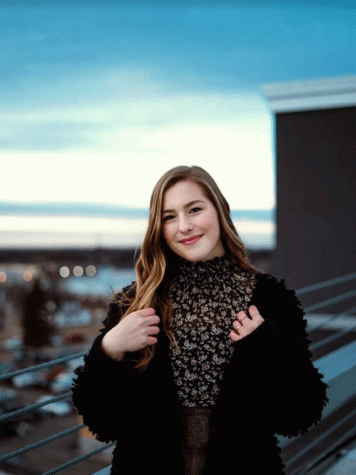 Elly Kenninger, Co-Editor-in-Chief
Elly Kenninger is a senior at Fargo North High School. She is an Editor-in-Chief. As well as being involved in journalism, she participates in basketball,...