Living as a Triplet
Growing up you probably had a similar thought of "I wish I had a twin." This is a thought most kids have, and this was no dream, but a reality for Shawn, Kaylee, and Andrea McClary. The now senior triplets, have lived their entire lives growing up together, and have survived the last 18 years of their lives spending day after day with each other not only at home, but also in the classroom.
The triplets' parents, Dave and Lori McClary, were shocked after they found out that they weren't just having one child like they thought, but in fact three. According to bountypartents.com, the likelihood that someone will have triplets is 1 in 9000. The triplets were born on July 1, 2001, and Dave and Lori quickly realized that having to raise three children is no easy task.
"My parents had a lot of help from my grandma after we were born. My dad had to keep working, so my grandma moved in with us to help take care of us," said Andrea McClary. In fact, their grandma spent the first year living with the family to help raise the triplets.
Growing up with not only one sibling, but two definitely has its benefits.
"It was always fun to have people the same age as you to play with when we were younger," said Kaylee McClary.
Unlike growing up as a twin, there is a greater chance that you will be able to bond over different things.
"I really liked the times when we had our special moments together. Shawn and I always connected over sports, and Andera and I always connected with friends," explained Kaylee.
Along with multiple benefits, there are some disadvantages. When reflecting on her childhood, Andrea remembers just one of many instances where being a triplet came with many disadvantages.
"My siblings and I would gang up on each other. For example, Shawn and Kaylee felt the need to roll me up in a blanket and push me down the stairs."
For Shawn, however, that is a happier memory. "That was one of my favorite stories growing up," he said.
Not only did they spend every moment together growing up, but nothing changed as they went to school. Like most things, this experience had both a positive and negative side.
"It's kinda helpful, because they can help you with homework when you don't understand, but it kinda stinks, because it causes lots of arguments and comparisons between each other, which don't feel the best," said Andrea.
Despite growing up together, all three of them plan to do very different things with their lives. While Shawn plans on starting his electrician apprenticeship this coming fall, Andrea plans to head off to cosmetology school to hopefully one day own her own salon. Kaylee has plans to attend NDSU and study elementary education.
Even though there are many ups and down to being a triplet, all three are very close and enjoy being a triplet.
"It's nice when we all can hang out and bond over little things in our day, especially because we know all of the same people," said Kaylee
What is it like growing up as a Triplet?- You always have a friend and someone to hangout with instead of scheduling playdates. Throughout school it was always nice to have some to ask questions about homeworld
How did your parents react to having triplets?- They were very surprised they were only expecting to have one child so when they found out they were having three they were a bit shocked. They didn't know all of our genders because some of us were facing the wrong way during ultrasounds.
What are some of your favorite memories?- Vacations were always fun because we would get to spend time together, and see family that we often didn't get to see. Summers were really fun because our mom would stay home with us, so we could swim and be outside.
How do you feel about being a triplet?- Sometimes it's hard especially because we have very similar values so we have similar friends, so when you are with a person 24/7 you are bound to get annoyed with them. We don't always get along which is something people don't expect. Overall, I enjoy being a triplet, you always have a person to talk to and you know that they will always be there for you, just like a normal sibling would but we are all the same age so they know what your going through.
What were some challenges growing up?
My siblings and I would gang up on each other. Like two of us you gang up and attack the other. For example, Shawn and Kaylee felt the need to roll me up in a blanket and push me down the stairs. It didn't feel great and I felt pretty dizzy pretty sure I cried. So that wasn't very fun. It was hard for my parents keeping us all in check and calm. You always see the moms with the backpack leashes, ya that was my mom.
What's it like having siblings in your classes?
Its kinda helpful lucas they can help you with homework when you don't understand, but it kinds sticks because it causes lots of arguments and comparisons between each other which don't feel the best.
My parents had a lot of help from my grandma after we were born my dad had to keep working so my grandma moved in with us to help take care of us and lived with us the first year.
About the Writer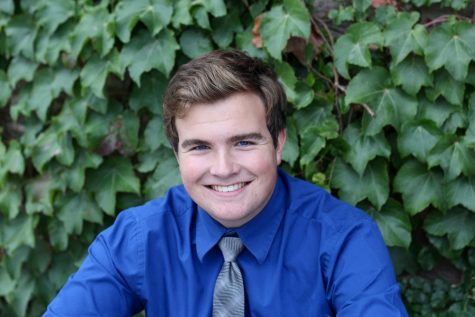 Jaden Zander, Web Editor
Jaden Zander is a senior at Fargo North and it is his first year in journalism. He is the Web Editor for the Scroll. His favorite part of journalism is...