Practicing gratitude during the coronavirus
These recent events can lead many to feel angry or disappointed. However, dwelling on the negative is never good for anyone. I decided to take up gratitude journaling again in order to help me stay optimistic, by allowing me to focus on the positive side of what's going on. Surprisingly, once I started looking, they weren't too hard to find.
I am most grateful for all the extra time I have, simply because it has had so many positive effects. It significantly decreased my stress by giving me adequate time to complete everything I needed to get done for school and my personal life. It also let me pursue my hobbies, which include reading, writing, taking long walks, and latch-hooking (which I hadn't done in years).
I quite quickly read through all the books on my immediate to-read list. I was feeling quite lost over what to do, because the library isn't open. I then remembered the library's e-book selection. I quickly checked it out and all my reading needs were satisfied. This just solidifies my gratitude for public libraries.
The long walks, often along the river path before it flooded, significantly improved my mood, because I absolutely love spending time in nature. It's beautiful to have the time to just enjoy nature and life.
The extra time has also allowed me to bond with my family. My sisters and I watched TV, sang karaoke, played basketball, competed in games, and danced together. I was immensely grateful for my Mom during Easter. I think she felt bad Easter would be just us this year. She spent hours making our amazing Easter meal. She made a roast, asparagus, soup, cinnamon rolls shaped like bunnies, cupcakes, cookies, and cheesecake. Everything was so carefully done, and the end result was beautiful and delicious. I was previously feeling rather sad, because Easter wouldn't be like previous years. But just because this year was different, it wasn't necessarily bad. We attended online church, spent time together as a family, and had a wonderful Easter meal. This showed me that even though situations may not seem the best, they are ultimately what we make them.
Sometimes it's the little things which mean the most. For example, I love waking up every day at a decent time, refreshed, and actually ready to wake up. Furthermore, having adequate time to eat and enjoy every meal has been amazing.
I think times of disaster bring out the best in people. I personally love to see all the good that people are doing during this time, both through the news and personally.
This time my gratitude journaling showed me something good can be found within almost everything. Although times may be different and seemingly downhill, I think it's important to remember to be grateful for the good things and to make the best of the situation.
Leave a Comment
About the Contributor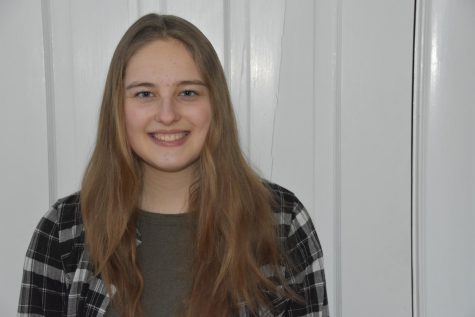 Laura Simmons, Writer
Laura Simmons is a writer for Fargo North High's Scroll. She takes Orchestra and Latin as well as Journalism for her electives. She is also active in multiple...