To the Class of 2021
To the class of 2021, I know right now things seem dull with some of our sports seasons, theatre productions, and last club events being canceled. I know this year we were supposed to go to our first prom, get all dressed up, and have a night to remember with all of our friends. However, while this is all very sad, we still have one whole year of high school ahead of us. So let's make it the best one yet.
This summer is the perfect place to start as everything begins to open back up again. I know many of us were looking forward to many events or opportunities that were canceled due to coronavirus, but don't let that stop your summer. Use this time to spend with your friends, and the people you haven't seen in awhile. This is the last summer we have before we pack everything up and start the next chapters of our lives, so let's make the most of it. Pick up a new hobby, spend more time outdoors, or volunteer at a place you're passionate about. Take the leap and try new things before we are (hopefully) back in our classrooms in August.
When the school year starts, many of us will be going into our senior year as captains of our sports teams, leaders of our favorite clubs, and representing our school as a whole. While many of us may think we know exactly how we want our senior year to go, we should still strive to do new things. Join a new club, sign up for an exciting new class, and put yourself out there to make new friends. This year should be exciting and fun and we should try our best to make it that way for everyone.
Get out and go to sporting events. Let's bring our Spartan Spirit this year and get the rowdy crowd packed! Let's support one another in the things we love to do, by showing up and cheering loud. Especially with how the end of this school year turned out, we know that these games can't be taken for granted.
I don't think it's necessary to talk about all the lasts we will be experiencing next year and the many goodbyes we will have to say, for right now we should focus on the excitement. The excitement of finally reaching the year we've all been waiting for. The excitement of being at the front of the rowdy crowd. The excitement of figuring out what we want to do with our futures. The excitement of getting to do the things we are passionate about again. And most of all the excitement of getting to spend one last year with the friends we've been making for the last 12. To the class of 2021, get ready.
Leave a Comment
About the Writer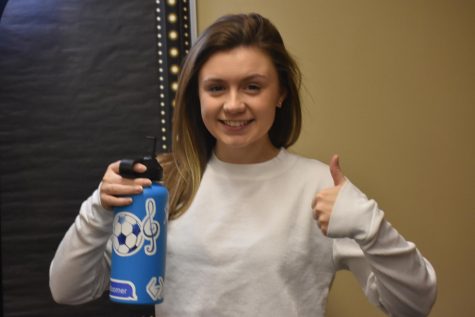 Megan Middaugh, Co-Sports Editor
Megan Middaugh is a Junior and a co-sports editor for the Spartan Scroll. This is Megan's second year working for the scroll. She enjoys meeting new people...