An apology to the Class of 2020
As we approach the end of this school year in quarantine, this is a nice time to reflect on how crazy this school year has been. In the fall, we had two scares with gun threats, a uniquely hilarious musical, and many nights watching our sports teams occasionally win. In the winter, we had our first early release snow day, and the usual fun activities we love watching and participating in. Then, spring activities were just beginning\; track had started practicing out in the cold weather, the spring play cast list came out, other spring sports were having pre-season meetings, and everyone was beyond happy to see the snow slowly melting away. Then, ironically on Friday, March 13, everything came crashing down.
March 13 will forever be in our minds as the day our lives were turned completely upside down. All school activities were canceled indefinitely due to COVID-19, and two days later school was also shut down. They said it would only be a couple weeks, just an extended spring break. All the students were so grateful they didn't have to take those final tests right before break\; it truly felt like an answered prayer for many. For some, the first few days did feel like a spring break\; they were free to hangout with friends and go wherever they pleased. While for others, especially with strict parents, they were quarantined the first day school was shut down. I began journaling the first day, starting with Day 1, then soon it was Day 15, then Day 30, and now we're well past 50 days in quarantine. We've been doing school virtually for almost an entire full quarter, and many of us have taken our first AP tests online. This has become our new "normal."
On May 1, Governor Burgum announced schools would finish out the year on the distance learning plans. This was when it hit everybody that there will be no high school baseball season, soccer season, spring play, academic breakfast, or a normal prom for the 2020 spring year. There won't be any more music concerts, talking to your friends in the halls, going to super-early study sessions in the mornings, or staying at school past eight from after school activities. This is all very sad to think about, but for the Classes of 2021, 2022, and 2023, we still get a chance to do all these things at least one more time. The Class of 2020 does not have any more years left at Fargo North.
This year's seniors did not know that March 13 was going to be their last normal high school day. Many of them left school that day thinking they would get their senior prom, senior recital, senior night for spring sports, and experience all of their 'lasts' of high school. The Class of 2020 is full of so many wonderful, bright, amazing students, who did not deserve to leave high school this way.
Many senior athletes were preparing for their senior season, and had been waiting for this season their whole high school career. All seniors wanted to try and make it to state one last time for soccer, tennis, softball, golf, baseball, and track. Many of these athletes had played their spring sport for over the majority of their lives, and won't get the opportunity to play again at a competitive level. Others also might have missed out on the opportunity to be scouted this spring to play at the next level out of high school. Senior spring athletes missed out on all of these opportunities, and everyone wants to apologize for the rudeness of COVID-19. It shouldn't have been allowed to take this all away from you guys.
Another thing many seniors missed out on is academic and club opportunities. Some missed out on their very first academic breakfast, while others didn't know their junior year would be their final one. Many didn't get their final National Honor Society meeting either. Some clubs, such as JCL, were lucky as they got their state convention in right before everything shut down, but for most they missed out on big conventions. DECA had both their state and national conventions canceled, which is a very important club for many graduating seniors. Speech and Debate also had their national competition canceled, which was supposed to be in New Mexico this year. The National JCL Convention also was canceled a couple weeks ago. Seniors missed out on so many great opportunities, and 'lasts' within their academic career, for which everyone feels so sorry.
What's the worst of all though, is they're missing out on the month of May, which would be spent going to grad parties and celebrating that they did it\; they graduated high school. Instead, they're on Zoom four hours a day for school, doing homework and mostly staying in their house. Some still hope to have a grad party at some point, and probably will. But it won't be the same, when everyone's hesitant to hug each other and scared to cough when they swallow water wrong. They luckily will still get a physical graduation ceremony, but that like most things, have been postponed to later this summer.
With the world being such a mess right now, the class of 2020 really got the short end of the stick. All the teachers, parents, and students all are thinking of the seniors right now, and are truly feeling sorry for them. What they're going through right now is so difficult for people to imagine, missing so many wonderful things. However, it's very clear the class of 2020 will never forget how crazy and unusual their senior year was.
Leave a Comment
About the Writer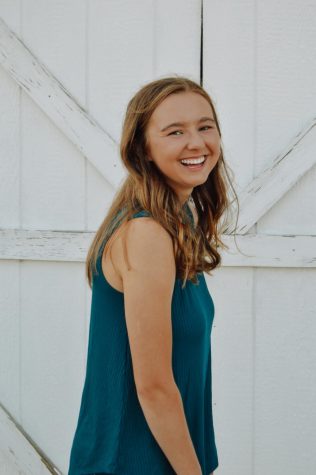 Kim Kadrmas, Editor-in-Chief
Kim Kadrmas is a senior and Editor-in-Chief for The Scroll. She is involved in many activities such as JCL, Band, and Key Club. In her free time she enjoys...