Fargo North Student tests positive for COVID-19
This year many of us were happy to get our first day back in school the first week of September, but some were not as lucky. Sophomore Beckett Schultze was not feeling well leading up to the first day of school, but he assumed it was just a little cold. When he went in to get a COVID-19 test on August 31, he was not expecting what would come next: A positive result and sending 7 of his friends into quarantine.
"I definitely expected a negative result. . . I was really surprised," said Schultze.
Schultze experienced many symptoms including: extremely sore throat, chills, bad headache, and lost sense of smell and taste for a day. After he was cleared for the virus, he still had lingering symptoms of extreme fatigue and dampened sense of smell.
"I had to quarantine for 10 days, which was weird because all of my friends who I was in contact with had to quarantine for 14 days, and I had Covid for a little less than all of the days I quarantined."
Every day for Schultze was generally the same routine. He would wake up about 10 a.m., and would call his mom to bring him food. She would then leave it outside his door, along with his medicine. After that, he would let his family know he was going to brush his teeth and shower, so they had to clear the entire floor for him to just walk to the bathroom. After that, he would spend the rest of the day napping, watching movies, and more napping. Then he'd have his family clear the floor so he could brush his teeth again, and he would go to sleep.
"If I'm being completely honest, it was a lot of fun, but after a few days of it I was getting bored, and was just missing my friends."
With Schultze considering himself to be a bit of an introvert, this was a pretty great life for him. He didn't have to see anyone for 10 days, and spent most of his days sleeping and watching movies. However, even introverts need social interaction, so he did get bored sometimes and wish he could see his friends again. The worst part of this experience for Schultze was surprisingly not having the virus, but being quarantined right at the beginning of the school year.
"I missed a lot of stuff, and I still am trying to catch up."
Despite Schultze still experiencing post symptoms, he wants to make it clear he does not have the virus anymore. According to the North Dakota State Department of Health, he physically is unable to carry or transmit it for 12 weeks. He also would like to thank his mom, because she was the one caring for his entire family, as his 6-year-old sister and dad also got the virus.
About the Writer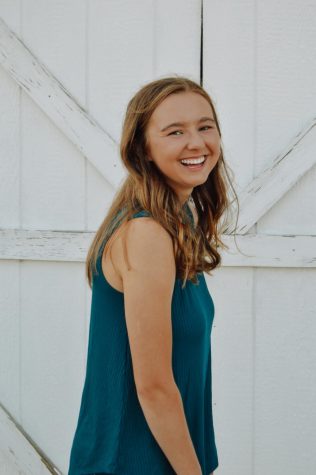 Kim Kadrmas, Editor-in-Chief
Kim Kadrmas is a senior and Editor-in-Chief for The Scroll. She is involved in many activities such as JCL, Band, and Key Club. In her free time she enjoys...