My Transition back to homeschooling due to COVID-19
The 2020-2021 school year is not going how I planned it out in my head. I assumed I'd be attending Fargo North High School living my greatest senior life. This vision is a little bit different than my current situation, where I'm actually learning from home.
For some context, I was homeschooled all the way up until eighth grade. I was planning on attending public school all through my high school years, but then the coronavirus happened. With everything going on, my parents didn't want me to go back to public school. Unfortunately, Virtual Academy wasn't an option for me, because they didn't offer any of the classes I wanted to take. Therefore, we looked at homeschooling as an option. Although I had been homeschooled previously, this was different, since I'd be taking higher level courses. However, with lots of research and discussion, we formed a plan. I began school on August 24 and have been at it ever since. So… what's it like?
Before I begin, it should be noted that because homeschooling is extremely flexible, every homeschooled student's schedule is going to be different. Therefore, my schedule and plans don't reflect the schedules and plans of all other homeschooled students. What I'm doing now is a reflection on my personal choices and ideas of what works best for me.
First off, no, I do not sleep in every day. Nor do I do school in my pajamas. Perhaps some may think I'm passing up on a glorious opportunity, however, I've consciously made the decision to not do these things. Sleeping in often makes my school day go longer, and my mind isn't as acute. Furthermore, I don't do school in my pajamas, because people often perform how they dress. If I decided to stay in my pajamas all day, I'd be setting myself up for a less productive day. Finally, yes, there is actual learning going on.
For my typical day, I wake up naturally (around 7:00), and I begin school around 8:00. Each of my classes lasts around 45 to 100 minutes. It just depends on how the class goes. Each day I complete my classes in the same order: Calculus BC, Statistics, Biology, US Government and Politics, Literature and Composition, and finally Latin. For my classes I'm using Khan Academy and/or edx, except for Latin where Mr. Volk (the Latin teacher) is letting me follow along with his Latin IV class. On top of my school work, I also make time for golf practices, violin, extracurriculars, and my goals.
There are many aspects of homeschooling I've missed. The freedom and independence is amazing. I have the ability to create my 'perfect day' everyday. This means I can follow the schedule that works best for me and use the learning tools that help me the most. I'm able to adjust my schedule, so I can do the things I want while still getting my school work done. During public school, some days I'd be so busy I'd wake up slightly scared for the day, because I knew I wouldn't have the time to get everything done. Then other days, I had hours of free time. Now I'm able to even out my workload, allowing me to achieve a greater school life balance. My days are personalized and I love it. I'm unsure exactly why, but during the public school year, I'd often wake up not wanting to go to school. While at school, I'd often check the clock frequently. The days seemed to drag by. However, now I'm happy about getting up and the day goes by quite quickly. Probably the greatest benefit has been the drastic decrease in my stress levels. I remember in years prior, I'd always be overly anxious about due dates and tests. Now, due dates are flexible and, even though I still have tests, they're much less stressful because they can always be improved. For example, I'll take the test or quiz, see what I know and what I need to improve on, go back and study the skills I need to improve, and then I'll retake the test if needed. I like how this process allows me to use tests in a growth-mindset way. My scores are never fixed, because my knowledge isn't either. Finally, the little things sometimes stand out the most. I'm able to eat when I'm hungry, go to the bathroom without stressing about missing class, turn on the heater when I get cold, go for a short walk or run if I need to move around, and take a power nap if my current state of mind is not helping the learning process. These little things make my day.
However, not everything is perfect nor necessarily better. I've already had a couple of days where I become extremely frustrated, because the video or textbook isn't clicking for me, or I don't understand the topic, and my Google searches aren't being very helpful. In these moments, I desperately miss having a teacher. Their personal help and feedback is irreplaceable. However, the situation isn't all bad. I've been able to figure out the problems in the end, and these situations prepare me for the future where I won't always have someone to help me. Along with teachers, I also miss seeing my friends at school. It was always nice to catch up with each other at lockers, during class, at lunch, or during school events. Luckily, I'm still involved in school activities such as sports and extracurriculars, so this aspect hasn't completely disappeared. Finally, it is a little sad to realize I'm no longer truly part of the Fargo North High community. It's amazing that I'm still able to take classes and be part of the extracurriculars, however, I'm not a Fargo North High student anymore. I wasn't able to vote for the homecoming court, I won't be invited to the senior retreat (if that's still happening), and I won't be able to be part of the graduation or get the diploma.
Although there are negative sides to being homeschooled, I'm not necessarily angry about my situation. After all, there are so many positives which I can be grateful for everyday. As for the negatives, they all either have a positive side or aren't that big of a deal. I'm excited to be homeschooled my senior year, because it provides me with many unique opportunities. Furthermore, the process of "learning independently" is an amazing skill I hope to develop throughout the year and take with me throughout the rest of my life.
Leave a Comment
About the Contributor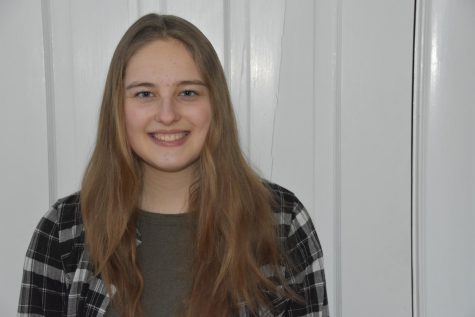 Laura Simmons, Writer
Laura Simmons is a writer for Fargo North High's Scroll. She takes Orchestra and Latin as well as Journalism for her electives. She is also active in multiple...