Must try: Crave restaurant outdoor igloo dining!
Crave is one of the newer restaurants in the Fargo area, having just opened a little over a year ago in the West Acres Mall. During the holiday season, this restaurant is not like any other restaurant; they have created a fun, covid-free way of dining out that is limited until the end of January. They have outdoor seating for families in heated bubbles called igloos!
Crave is called a sushi bar, but they have so many more options on the menu than just seafood. Online you can find a lunch and dinner menu for Crave showing the variety to choose from. In the "Starter & Shareables" section, they have wings, flatbread, egg rolls, nachos, shrimp. . . literally every kind of appetizer or small meal you can think of. Next on the menu is four options for starter soups and salads. Following that is the "Chicken & Pasta" section, which has seven different meals to choose from. There's also entree salads, burgers, steaks, seafood, and obviously sushi. In the back of the menu, there is even a section for those with allergies or want gluten-free options.
My family got the opportunity to eat in one of the igloos, thanks to my mom for reserving it two months in advance. On their website, they say the max amount of people is six, but with special requests we got seven in our bubble. You might even be able to squeeze eight people into one of those igloos, as they are quite spacious and comfortable. Inside the igloos are the table, along with cute string lights and decorations on top. They even provided blankets and pillows inside as well, but they were not needed as the heater kept us nice and warm. We even took our coats off, and it was about 15 degrees out that night.
We got sushi for appetizers and I got the lobster mac and cheese for my meal. Everyone in my family got something different for their meal, and we all enjoyed our meals. We had no complaints. When you reserve the igloos, you only get 90 minutes for your meal time, so there was never extended waiting on food or drink, and the waitress came in multiple times to check on us. One thing to note is some of the items on the menu are pretty pricey, and you must spend at least $150 to reserve an igloo, but that reservation cost goes to your bill for the meal. Especially when your parents or somebody else is paying, it is so worth the money. Where else do you get to eat outside in a giant bubble and not have to worry about getting COVID-19?
Overall, I highly recommend this restaurant for literally anybody, because they have such a huge menu full of different kinds of food, and everything tasted so good. It was even more enjoyable being able to eat in an igloo, which is still available till the end of January, so get online and reserve your spot now! Crave is open Monday and Tuesday from 3pm-8pm, Wednesday, Thursday, and Sunday from 12-8pm, and Friday and Saturday from 12-9pm. This is such a cool experience that anybody would enjoy and I promise you will not regret it.
Leave a Comment
About the Writer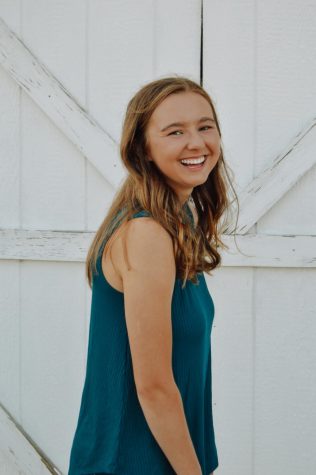 Kim Kadrmas, Editor-in-Chief
Kim Kadrmas is a senior and Editor-in-Chief for The Scroll. She is involved in many activities such as JCL, Band, and Key Club. In her free time she enjoys...