Beloved Latinist Reginald Foster passes away from COVID-19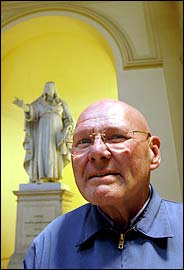 Reginald "Reggie" Foster was a very famous man, at least throughout Fargo North's Latin classes. Reggie was a Wisconsin native who somehow ended up working for the Pope himself, translating various documents from Latin to English and vice versa. He did this for many years, serving four different popes including Paul VI, John Paul I and II, and Benedict XVI. Even before and after his career as a Vatican translator, Foster had a very "Latin-y" life.
Foster was born in Milwaukee in 1939 to a family of plumbers, but knew from a young age that he wanted to be a priest. But at age 13, when he declined his first noun, he decided he wanted to be a Latinist as well. It was also at this age that he realised his three goals; to be a priest, to be a Carmelite, and to do Latin. Then at 15, he went to a junior training seminary and a few years later he formally joined the Carmelites in 1959. He then moved to Rome to study and was eventually ordained as a priest in 1966. A few years later in 1970, he was recommended to join the Latin Letters Office, thus becoming the first American to be one of the Papal Latin secretaries. Here is where the bulk of his career took place. However, along with his full time job, he somehow found time to be a priest, tutor students, and have a radio program on Vatican Radio.
Our school's Latin teacher, Mr. David Volk, got the amazing opportunity to go to Rome and study with Foster. Volk has told our class many stories of the experience, including showing us the red pen covered worksheets he brought back with him. Foster was a great teacher, and he only wanted students who truly wanted to be there. He even told this to his classes, telling them to leave if they really wanted to. For the people that stayed, however, they were in for a real education. Another thing about Foster's classes is that they were free for anyone who wanted to learn Latin. Students got countless worksheets and reading assignments, and after being turned in they would almost always come back with many mistakes pointed out in pen. Even our super smart Latin major Mr. Volk made tons of mistakes while studying with Foster. This is good however, because Volk will often bring up Foster's teachings in class if someone makes a mistake regarding something Foster had taught him. He will also quote him often by saying "Since you brought it up…" a phrase Latin students know all too well. Foster has made such an impact on Volk and the Latin classes at North, we have a shrine for him on top of a shelf in the Latin room, complete with photos and candles (unlit of course, no fire hazards here.)
In 2008, Foster collapsed while in class and was flown back to Milwaukee where he was put into a nursing home. He then retired from his career as a Vatican translator, but continued teaching students back home at the University of Milwaukee, still free of charge. As he got older, he stopped the classes on campus and started teaching out of his nursing home. He continued teaching for years until he finally passed away on December 25, 2020, after having tested positive for COVID-19.
Leave a Comment