Phasmophobia: a fun online game for all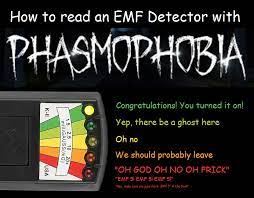 You may have heard of the new hit game called Phasmophobia. This horror surviving game was published and developed by Kinetic Games in September of 2020. Phasmophobia is a multiplayer game that you can play with up to three friends; there is also a way to play using virtual reality. This game is a fun teamwork co-op filed with jump scares, paranormal activity, and much fear.
Phasmophobia is a survival horror game where you and three other players are ghost hunters who are hired to travel to haunted locations and figure out what spirit is haunting the grounds. While trying to stay alive, you and your teammates must find evidence that leads to the type of spirit you are dealing with. You are given a map where you can choose what location you will be exploring and a list of tools you can buy to help collect evidence. One of the tools your team is given is a notebook with qualities you will find in each type of spirit. The spirits intoll a Poltergeist, Banshee, Jinn, Spirit, Wraith, Phantom, Mare, Revenant, Shade, Demon, Yurei, and an Oni. Each ghost has different strengths, weaknesses, and tools that you can use to find them.
Of course, you will need tools to seek out these ghosts. These tools include a spirit box and a ouija board that helps you talk to the dead spirits that haunt the building, a crucifix to ward off ghosts, a ghost writing book for the ghosts to show they are there, torches, and cameras. These cameras can be set up around the site and you can view the live feed from the ghost hunters truck. Gopros can even be used to see what your partners are seeing and you can spot anything that they miss.
These ghosts can kill you so you need to be careful when wandering around the site. When you die, you become a ghost yourself and you can watch your teammates finish the game. If you manage to stay alive, you can see your other teammates die or save them from dying. Make sure to always have tools on you and to look out for evidence that shows a ghost is near. Two more tools that are very helpful are the thermometer and the EMF reader. The thermometer detects freezing temperatures, which means there is a ghost in that room. EMF stands for Electro-Magnetic Field, and this detects the EMF level of the ghost that is indicated on the reader with different colors. Green is shown when you turn on the device and lime green is shown when there is a ghost either nearby or the signal is just low. Yellow means the ghost is closer and therefore gives more energy. Orange means the ghost is there in the room and you should probably leave. Finally, red means the ghost is right on you and you need to run out of that room as fast as possible.
This game can be played on PC and mobile devices using a remote by downloading the steam link mobile app. It can be played with 1-3 players and as stated before Phasmophobia is a team cooperative game so you would need to be able to speak with your partners to finish the tasks at hand. An app called Discord can be used to do just this. Discord can be downloaded to your PC and mobile devices where you and your friends can make a chat room while playing different games. Phasmophobia isn't the only game you can use Discord on. You use it on mostly every team game including Among Us, Minecraft, COD, and many more.
If you are interested in Phasmophobia, you can watch many streamers play on streaming sites like Twitch and Youtube. This game has become very popular in the streaming world, and you can watch many popular gamers play including PewDiePie, Markiplier, Jacksepticeye, and even Corpse. If you would like to check this ghost hunter adventure game out you can purchase the game on store.steampower.com for $13.99. Happy hunting!
Leave a Comment