ND Legislature: What it is and what they are doing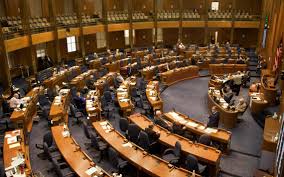 Many people know the basic structure of the United States' government with its three branches, but not many people know much about their own state government and what it consists of. In the Legislative Branch of each state's government, there is the legislature made up of elected representatives. These people consider matters brought up by the governor or by themselves to create legislation that could eventually become a state law. In North Dakota, the state legislature meets only a few months every other year, and just recently reconvened for the 67th legislative assembly. This year, they will be meeting from Jan. 5 through April 28. During this time, they will mostly be discussing and voting on bills to become laws. So far, they have been dealing with many bills and some are quite interesting.
As I scoped through the many bills they are working with, many are simply just amendments to already laws for clarification. For example, Bill No. 1248 added the words "dangerous weapon" to multiple sentences in the section originally titled "Firearms in emergencies." This bill was simply made to make it clear that they were discussing all dangerous weapons, not just firearms and ammunition.
Majority of the bills they create get killed and do not become a law. For many of these bills, it's a good thing they did not get passed. One bill that was introduced, but later died was not requiring seat belts for people over the age of 18. Personally, this seems like it would be a stupid and unsafe law if passed, as people would be more likely to not put their seat belts on if they knew it wasn't a law. This would definitely cause more people to get injured and possibly die while driving, so I am grateful this bill was not passed.
There were other bills too, like No. 2232 that I hope are passed and should have been passed a long time ago. This bill simply states that North Dakota will observe June 19 annually as Juneteenth to commemorate the ending of slavery. Another bill, No. HB 1048, simply states that the court may require a guardian to provide a bond in the amount the court specifies. This means that if the court requires it, the guardian will be held accountable to take care of their dependents and not abuse their power. These are two bills that hopefully will become laws; they just make sense.
One hot topic bill is No. HB 1175, which would provide companies protection if an employee gets COVID-19, despite them taking all the necessary precautions to keep them safe. As of now, if someone gets COVID-19 from work, the company could be potentially liable for not keeping them safe, even if they had precautions in place like social distancing and mask wearing. With this bill, it would protect companies from civil liability, unless the company is disregarding precautions that follow ND guidelines. Many business owners hope this bill will pass so that they will not be liable for something they tried to prevent.
Another interesting bill they were trying to pass was increasing the interstate speeds from 75 mph to 80 mph. This may sound ideal in rural parts of North Dakota, but in the busier parts of the state, like Fargo, this could be a little more dangerous. People naturally go a little over the speed limit, so keeping it at 75 means most drivers will be going about 80 mph anyways. Increasing it, will just make people feel okay with driving faster, which would be closer to 90 mph. Going faster is okay when there's not much traffic, but during the busier times in the bigger cities, this could cause more accidents and reckless driving. Luckily, this bill was killed and did not pass to become a law.
There are some bills, such as No. 1248, that continue to keep North Dakota behind the current times. This bill if passed would not allow transgender athletes to play on the team that matches their gender identity. In this bill, it specifically says athletes can only play on teams that match their birth certificates. With it now being 2021, most people are very accepting of the fact that there are more than just the standard male and female genders. The fact that this bill was even created at this point in time shows how backwards North Dakota still is in some ways.
These are just some of the many bills the ND Legislature has created and are currently either working on or will be discarding in the near future. Though the bills and laws are sometimes confusing to read, it's good to do research and see what bills the ND Legislature is passing and creating. Without researching, you may never know what new laws could affect your daily lifestyle.
Leave a Comment
About the Contributor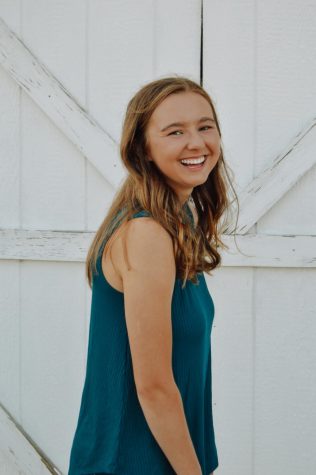 Kim Kadrmas, Editor-in-Chief
Kim Kadrmas is a senior and Editor-in-Chief for The Scroll. She is involved in many activities such as JCL, Band, and Key Club. In her free time she enjoys...