How a fun elective class can become so much more
As a middle schooler, my older sister would always bring home "The Scroll" for me to read. I always found it so cool that a bunch of high school students worked together to create an authentic newspaper on what was going on in their school and the world. When I went to the eighth grade activity night at North, I remember asking Mrs. Livingston about the school newspaper and she told me the freshman class would introduce you to the paper, but it wasn't the actual class for the paper. I was so excited to take a writing class with one of my good friends that I didn't really care. I knew it would be fun to be in a class with other freshmen who enjoyed writing and wanted a little introduction into what writing for "The Scroll" would be like.
Second semester rolled around, and I soon learned that my friend and I were the only two who signed up for this class, and it was NOT a freshman only class, but a class with all the upperclassmen who wrote for the paper. We were not expecting this at all and, being little freshmen, it was quite intimidating for a while. After one month into the class, we both were published journalists for "The Scroll."
After having an interesting first year experience, I decided to just write for the class sophomore year. It's so fun when you can write about what you want and not be graded on it. Junior and senior year I took the class again, and it was an absolute blast. Especially my junior year, I really felt like this could be a potential career or side job for me after high school. Then with being the Editor this year, I felt more certain, even with the pandemic kind of ruining everything, that writing was definitely going to be something I would continue into college and beyond.
What I got freshman year from journalism class was nothing like I was expecting, and it only got better as I took the class for multiple years. I took journalism because I enjoyed writing, but I also got to learn how to layout and design pages, as well as take photos and learn how to use Photoshop and other programs. You do so much more in this class than just simply writing, and it's so fun to see the variety of students who want to partake in this class/club.
Even if you think you will not like this class, you will never know until you try it out. You might even love it as much as I do and continue journalism in college and beyond. This goes with other electives at North as well. My advice to all underclassmen is to try as many fun and different classes as possible.
There are many classes like journalism that can help you figure out what career path you prefer. For instance, I once wanted to major in Computer Science, so I took Computer Programming my sophomore year. It was interesting to learn how to program, but I soon realized I got bored of it after one semester, so I knew I could never do it for my lifelong career. It was great for me to realize early on what I liked and didn't like, so I don't waste time and money once I am out of high school.
As much as I would love every underclassman who enjoys being creative in writing and designing to take Journalism next year and keep this paper thriving, I understand not everybody is interested in this subject. Even if you don't take Journalism, I hope you put at least one new class into your schedule next year. Whether it's a business class, something in the foods/FACS department, or a more interactive class like JET or Social Inclusion, you may never know what random class you decided to take on a whim could become a future career.
Leave a Comment
About the Contributor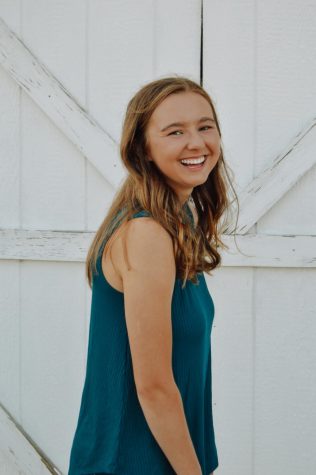 Kim Kadrmas, Editor-in-Chief
Kim Kadrmas is a senior and Editor-in-Chief for The Scroll. She is involved in many activities such as JCL, Band, and Key Club. In her free time she enjoys...