How to apply for the variety of college scholarships
Welcome back to my college advice column. Previously we have talked about the college search process, the actual college application, and writing college essays. The topic of today's discussion is scholarships. 'Tis the season of scholarships for high school seniors. As upcoming spring deadlines approach, many questions are sure to arise.
Hopefully by now you have completed your college applications and have either narrowed down or picked a school you plan to attend in the fall. The best place to start your scholarship search is within the college you are planning to attend. A simple search within your institution can bring about a variety of different scholarships that are specific to the school you are planning to attend.
Next, the counseling center here at Fargo North provides a lot of information about scholarship opportunities throughout the community. These scholarships can be found through the counseling center's page on the Fargo North High website. There you should find a link to a spreadsheet with a variety of scholarships, where to apply for them, and when the deadlines are. These scholarships are very diverse and can be for specific majors, what activities you participated in high school, or even what kind of institution you plan to continue your education at.
The last key place to check for scholarship opportunities is within the community. A lot of different businesses around the Fargo Moorhead area offer scholarships specifically for the community members. The best way to seek out these scholarships is to ask your family and family friends if the place they work at offers any of these opportunities. You may be surprised by what you find.
When you finally find the scholarships you want to apply to, it will be important to have these key pieces of information at easy access. Most scholarships will ask for your high school transcript, your GPA, your high school activities, and your ACT/SAT scores. As you may notice, this is all very similar to what was required on your college applications. All this information will be the same and should be easy to obtain.
Hopefully this little column has given you some idea of where to start looking for scholarships. Along with all the local ones, there are a number of national ones that can be found on the internet through a simple google search. No matter how many or which ones you plan to apply to, just remember to provide the most accurate information possible and to be yourself.
Leave a Comment
Your donation will support the student journalists of Fargo North High School. Your contribution will allow us to resume physical printing of our newspaper for students at Fargo North!
About the Contributor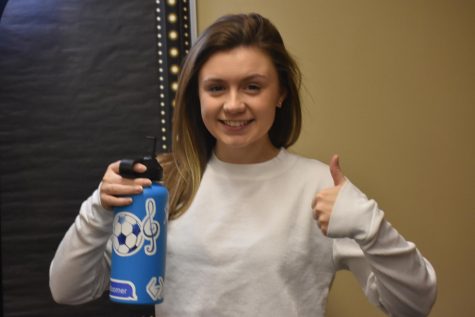 Megan Middaugh, Co-Sports Editor
Megan Middaugh is a Junior and a co-sports editor for the Spartan Scroll. This is Megan's second year working for the scroll. She enjoys meeting new people...