"OK ORCHESTRA" is a pretty okay album by AJR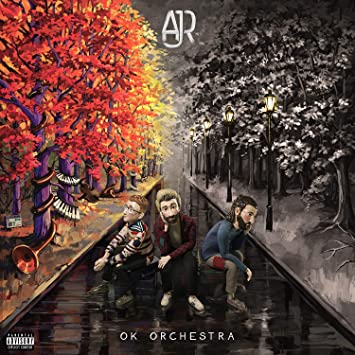 AJR is a band of brothers, who have been playing alternative/indie/pop music together since 2005, but have just now become popular in the last few years. Many are not very familiar with this band, but know some of their hits from the radio, such as "Sober Up," and the recent single "Bang," that is played on repeat on many pop stations and commercials. They recently came out with their latest album "OK ORCHESTRA" on March 26, 2021, which has quickly gotten a lot of positive responses. This album has blown up the fastest out of any of their previous albums, which makes sense as now more people are aware they exist and have some pretty good music.
I will admit, I was in AJR's top 0.5% of listeners for 2020, so I was very much excited for this new album and was hoping the songs would be as good or better than their past songs. As much as I hate to say it, the album as a whole did not exceed my expectations. Some songs are pretty good, and then others I didn't vibe with as much. As you continue reading, I will share a few of my favorite and least favorite parts of the album.
The first song, "Overture," made me concerned if I would like any of the following songs in the album. AJR starts most of their albums with an "Overture" song, which is a remix of all the songs that you will later hear in the album. This idea is pretty creative, and I like how they continue it through their albums (except "Neotheater"). I enjoyed their "Overture" in "The Click," but the one in this new album felt a little overwhelming and too busy at points. There were way too many different electronic beats and not enough real instruments for my liking. It might have been better if they just left this song out of the album, since they didn't include it in their last one.
"3 O'Clock Things" is one of my favorite songs on this album. It's got a nice driving beat through the whole song with a lovely trumpet melody throughout. The lyrics are so random, but somehow fit perfectly together. The whole song is basically thoughts you get in the middle of the night, hence the name, "3 O'Clock Things." It's all just very random and deep lyrics that make you think about things differently.
"My Play," is one of the more sad songs on the album, which came out as a single right before Christmas. Just like poetry or other music, there are many ways to interpret it, but I really believe this song was meant to be about a kid struggling with the divorce of their parents. The chorus is crushing, as it sounds like a kid who just wants to be around both his parents, rather than splitting his time between the two. As lead singer, Jack, sings, " I just really, really, really, really wanna show you my play/And I don't wanna do it for dad, at dad's new place. . .And I don't wanna do it twice, 'cause it's not the same." This song has lots of other sad lyrics that will hit you hard. I love this song, because it's good music with emotional lyrics.
"Adventure Is Out There" is what I wish all the songs on this album were like. It starts with beautiful guitar/ukulele chords that set a very nice, calming feeling for the rest of the song. Again, the lyrics are strange, but as the song continues, it all makes sense and flows so nicely. The chorus is my favorite, as it just makes you want to go on a spontaneous adventure. This song is slower and more acoustic than a lot of the songs on this album, which is the kind of music I enjoy listening to the most. It's also one of the few songs that doesn't include a lot of electronic beats, but rather real instruments, which I always enjoy.
I have mixed feelings on the song, "The Trick," but have learned to like it more as I listen to it again and again. The song starts with a voice singing that is heavily auto-tuned, which is the part about the song that is growing on me, but I still dislike it. The lyrics in this song are all about pretending to be someone you're not, which relates to an older song titled "Pretender" from one of their previous albums. It's such a pretty song if you take out the auto-tuned voice that sings most of the verses throughout the song. I'm learning to ignore the auto-tune and focus more on the lyrics and chorus of the song, which are my favorite and what makes this song so beautiful.
When I first listened to this album, I was kind of disappointed. However, I kept on listening to the songs, and have started to enjoy them a lot more. This album does not compare to "Neotheater" or any of their older albums, but I do enjoy how every song is different on this album, and some have joined the list of my ultimate favorites from AJR. As of now, I feel pretty mediocre about this album as a whole, but I think that might change as I listen more. If you are looking to listen to some unique alternative music, I definitely suggest giving AJR a chance. But maybe start with one of their older albums first, then give "OK ORCHESTRA" a shot.
Leave a Comment
About the Contributor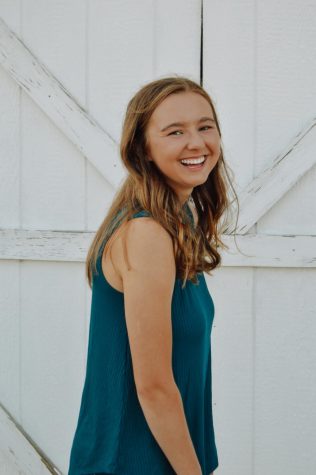 Kim Kadrmas, Editor-in-Chief
Kim Kadrmas is a senior and Editor-in-Chief for The Scroll. She is involved in many activities such as JCL, Band, and Key Club. In her free time she enjoys...