A Timeless Album – Electra Heart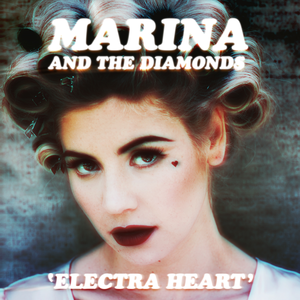 "Pick a personality for free when you feel like nobody." This quote, from "Valley of the Dolls" on Marina's album "Electra Heart" represents a feeling high schoolers might have; a feeling of not knowing who you are and changing yourself to fit in with others, so you no longer feel like nobody. The second studio album by Welsh singer-songwriter Marina Diamandis—better known simply by her stage name, Marina—is titled "Electra Heart." "Electra Heart's" first edition was released on April 27, 2012, with a track list originally consisting of 12 songs. The "Deluxe Edition" included three extra songs to the album, and earlier this year, on April 29, the "Platinum Blonde Edition" was released to celebrate the album's tenth anniversary, which included two additional tracks.
The album "Electra Heart" is a literary gem. The album was ahead of its time, and it will never grow old. The entire tracklist is amazing, with songs for every emotion imaginable, and the relatability is off the charts. "Electra Heart" promotes female empowerment and the freedom to do whatever you want with your body. Finding who you are, like high school, plays an important role in the album; high school is a time in a person's life when they try to figure out who they are and where they belong in society. Whether they're about misogyny, self-identity, or love, the songs all have a deeper meaning.
The album has many songs that make you want to get up and dance, but it also has songs that make you rethink your entire existence at three in the morning. Marina's most notable song on "Electra Heart" is her first single, "Primadonna," which is also one of my favorites. "Primadonna" describes a girl who wants everything handed to her and to have love without emotion. Marina is describing the lifestyle of a Prima Donna: wanting everybody to love you, not working for anything, and getting love without the emotional baggage attached to it. It is one of my all-time favorite songs of hers, even if it is her most famous..
The next song on "Electra Heart" I fell in love with when I first listened to it is "Teen Idle." This song will make you wonder about your existence as a person. "Teen Idle" talks about the stereotypical idle teen, being bottle-blonde, being Prom Queen, wishing to have lived out that life. Instead, Marina "wished she hadn't been so clean," implying that she stayed inside and didn't do anything a stereotypical teen idol did. She doesn't talk about being an "idle teen" without the dark side, the facade of happiness, the suicidal ideation, and the ugly truth to the pretty lies.
My number one song on the album is "E.V.O.L." The word E.V.O.L is L.O.V.E spelled backwards, symbolizing the more sinister side of love. Throughout the song, it constantly reminds you that "love is evil," and that it is easy for a loving relationship to instantly turn sour over the slightest thing. "E.V.O.L" also mentions the Shakespearean play "Romeo and Juliet," which doesn't end well because of a couple of small things, as is common knowledge. Also, they both die at the end. It really is a song for when you're feeling a certain kind of hate towards love.
Although the "Electra Heart" album has a lot of controversy around the meaning and concept of the songs, it is all satire. Marina used the stereotypical American roles like the "Homewrecker," which is another song of hers, as well as the housewife, and the teen idol. She created the character "Electra Heart" to embody everything Marina doesn't want to be. "I just love the side of [the American Dream] and that's really vapid and hollow, and that's kind of what I've really explored. The whole album is [based] around that." Marina explained in an interview with Popjustice. "Electra Heart" is a genius masterpiece of an album, showing the dark side of the American Dream and the types of female archetypes to tell the story of the selfish, narcissistic character "Electra Heart." This album will always have a special place in my heart since it is the first one I ever listened to that was by Marina.
Leave a Comment