"Carrie Soto is Back": A Great Read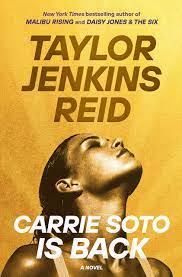 "Carrie Soto is Back" is a realistic fiction book written by Taylor Jenkins Reid about the most famous tennis player in the world. The book follows Carrie's entire life, and by proxy her tennis career. From when she was a toddler first learning how to play tennis, to her winning one of many Grand Slam titles, the story includes Carrie's struggles and wins that take her all the way to the top.
By 1990, Carrie had won a total of 20 Grand Slam titles, beating any record before her and crowning her as the best tennis player in the world. At the age of 32, Carrie retired due to injuries to her knee from playing. Yet five years later in 1995, a tennis player, Nicki Chan, tied Carrie's record for Grand Slam titles. Carrie, obsessed with winning and being the best, comes out of retirement at 37 years old, determined to win her record back.
The first third of the book shows her childhood and learning how to play tennis, but the majority of the book follows her through the decision to come out of retirement, and the consequences and the aftermath of her choice.
Carrie Soto is an extremely complex character, which is one of the many reasons why this book is so great. She doesn't care about fame, money, or attention; most of all, she doesn't care what people think of her. She is rough and harsh, which makes her a difficult character to read about. She only cares about winning every game she plays, being the best player in the world, and making sure everyone knows that she is the best.
Because of her cold exterior, she earned the nickname 'The Battle Ax.' Carrie is complex, and rude overall, but this rudeness and complexity is why I love her so much. It's relieving and fun to read about a woman with that kind of personality. Men are often praised for being cocky, arrogant, and smug, but when a woman does the same she is ridiculed for not being nice. The story shows many examples of exactly this which further drive the point home.
Carrie has struggles of her own despite her tough exterior, and we read about her trying to get through those struggles. Whether it's family issues, love, or simply the stress of the game, we get to read through those conflicts. Carrie's main focus in life has always been tennis, and always will be. But with the new struggle of beginning her training again after five years, more and more issues begin to show themselves. Reading about this character and getting to be in her mind through these struggles gives you a different perspective on the character, which is important because it shows us how different or similar she is than what meets the eye.
Though this is Carrie Soto's own book, this isn't the first time she is mentioned. Taylor Jenkins Reid has several other books, including "The Seven Husbands of Evelyn Hugo" which is set in the 60s, , "Daisy Jones and the Six" set in the 70s, and "Malibu Rising" which is set during the 80s. We first get a glimpse of Carrie in "Malibu Rising", and it's safe to say we meet her in a very compromising position. Though when we first see her, "Carrie Soto is Back" is set 11 years later in 1994.
Another great thing about this book is that it's for everyone, no matter what your interests and hobbies may be. While "Carrie Soto" is about tennis, it's still very entertaining for everyone who reads it. To someone who is trying to learn more about tennis, it could help you learn basics, rules, and tips to play better. Since the entire book is tennis matches and practice for those matches, we learn a lot from Carrie's trainer.
For someone who doesn't often read, it will keep your attention because of the fast-paced plot and keep you on the edge of your seat towards the end, desperate to see what happens next. Carrie goes through a lot to get where she wants to be, and the book takes us through it all right alongside her. Whether you enjoy Carrie as a character or not, the book will keep you sucked in because of the intense matches as well as the fast paced and engaging plot.
As you can see, "Carrie Soto is Back" by Taylor Jenkins Reid is a phenomenal book for anyone and everyone. It keeps you interested and engaged in the story line, it pushes you to work hard and be yourself without apologizing, and encourages people to work for what they want.
Leave a Comment