Exclusive Interview With Cara Mund
Exclusive Interview With Political Candidate, Cara Mund
By Grace Schmidt
I recently had the pleasure of interviewing Congressional candidate Cara Mund, and here's what I took away from it. Mund is quite the life-inspiring candidate, having done this interview despite the conflicting schedules and disasters that interrupted us. Mund made it clear with her answers that she is here to stay.
Mund also made it clear that she is not a one-policy candidate when she said, "I think one thing I want to make very clear is that the media, especially the Fargo Forum, has painted me as a one-issue candidate. And I am not a one-issue candidate. Not only do I support abortion but I support lower prescription drugs, mental health, and veterans' support." Not only that, but one of the most important things to her if elected is to be representative of the entire state, to give North Dakotans a voice, and make sure that every person, not just those who identify with the leader's viewpoints, is heard. Whether they be Republicans or Democrats, everyone feels heard. She said that's why running as an independent is so important to her.
Mund recently met with the North Dakota School Board and planned parenthood member and it reminds me of her answer to my question, "What is your view on people who claim to be pro-life but say my body, my choice to vaccines?" To this, she said, "I will say that I am vaccinated and it's because I had to be to go to law school. I respect my body, my choice, but then it is. There is not a clinic in North Dakota that does elective abortions anymore. It is women's healthcare and those decisions are private. I don't go around asking people if they're vaccinated or not. And part of it is it's not the government's business to be in those places. Businesses can require it, and schools can require it, so keeping that in mind as well. It's important when you have that belief of my body, my choice still applies to women."
Even though she is independent, she doesn't support the majority of what President Biden does. She told me that although she doesn't agree with the Biden loan forgiveness act, thinking it is the wrong decision, she does say, "I agree that we need to address higher education. I'm fearful of how expensive school is going to be for my children and my grandchildren and we can't keep going on this path."
To lighten up the interview, I asked Mund what her favorite Taylor Swift song was. Her answer is not only, "What I love about Taylor Swift is she uses her platform to speak out for women. She's a strong independent woman who's been able to bring out the sexism in the industry. Because of that answer, my favorite Taylor Swift song right now is The Man because I have experienced it myself. I think most women have experienced it, and there is a double standard. For that I applaud her for her courage, she's using her platform for good and if I can support her in any way I'm happy to do it."
Mund also urged young people, saying "I hope now more than ever young people realize, our rights are on the line. I hope in this election, especially those of childbearing age, you want your rights and equality as a woman." She also added, "Our young people are so interesting to me. You are all growing up at a different age than I was. Like TikTok was not in our hands at all times. You are getting information thrown at you all the time, which can be a benefit and a hindrance. I also know that our young people are smart enough to figure out what 'matters to me, where do I stand, what is real news and what is fake news.' I just hope young people know their voice matters and it could make the difference between whether or not you have rights."
Mund is working hard to appeal to North Dakotans and help break down the divisions fostered by both political parties' hyper-partisan actions. All of these ideas make her a viable candidate for both Republicans and Democrats. Election Day is Nov. 8, and remember: North Dakota is the only state in which you do not need to register to vote.
Leave a Comment
About the Writer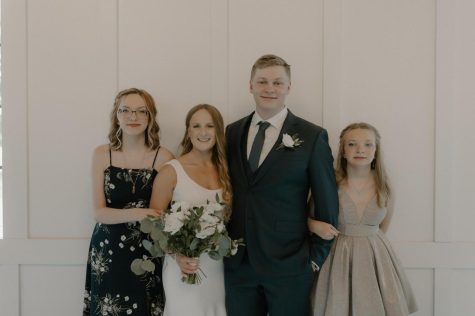 Grace Schmidt, Writer
Hi! I'm Grace and this is my first year in journalism! I am currently loving journalism and it has opened a whole new world to a future career.  I am...