Midnights Disappointing to Longtime Taylor Swift Fans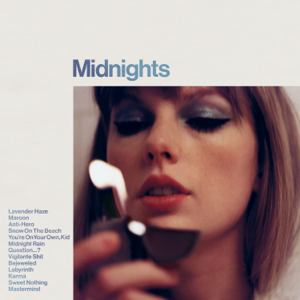 Midnights Disappointing to Longtime Taylor Swift Fans
By Grace Schmidt
Recently, Taylor Swift has teased her fans—including me—with cryptic posts and dresses worn in bathtubs. This led to Swift taking a few moments during her video of the year speech at the VMAs to announce her new album called Midnights. She told her fans, "I had sort of made up my mind that if you were going to be this generous and give me this, I thought it might be a fun moment to tell you that my brand-new album comes out Oct. 21. And I will tell you more at midnight."
Swift is known for littering her music and social media with easter eggs and hidden clues. Eagle-eyed Taylor Swift fans, who are also called 'Swifties', have analyzed her entire discography and scoured her social media pages looking for hints and secrets. The album has a track list of 13, which is Swift's lucky number, and fans noticed that numbers in the date of the album release add up to 13.
To make it even more cryptic and bizarre, Kim Kardashian's birthday is Oct. 21, and it's well known that they have a feud. Even her lyric "I want your midnights" from the song "New Year's Day" on the album "Reputation" has a different meaning now.
On her Instagram, Swift gave an excerpt regarding one of her songs: "We lie awake in love and in fear, in turmoil and in tears. We stare at walls and drink until they speak back. We twist in our self-made ages and pray that we aren't—right this minute—about to make some fateful life-altering mistake. The floors we pace and the demons we face. For all of us who have tossed and turned and decided to keep the lanterns lit and go searching-hoping that just maybe, when the clock strikes twelve … we'll meet ourselves."
Swift released the names of the 13 tracks and one bonus track in a series on TikTok called Midnights Mayhem With Me. Some of the titles are "Lavender Haze," "Anti-Hero, Snow On The Beach" featuring Lana Del Rey, "Midnight Rain," "Karma," "You're On Your Own, Kid," "Mastermind," and "Hits Different." This will be Swift's tenth studio album and her previous albums consist of Taylor Swift (2006), Fearless (2008), Speak Now (2010), Red (2012), 1989 (2014), Reputation (2017), Lover (2019), Folklore (2020), Evermore (2020), Fearless (Taylor's Version), and Red (Taylor's Version); both in 2021.
Swift described her newest album as, "a collection of music written in the middle of the night, a journey through terrors and sweet dreams." In the behind the scenes video of "Lavender Haze," Swift said the song addresses her 6-year relationship with British actor, Joe Alwyn, and "if you are in the 'lavender haze', then that meant you were in that all-encompassing love glow."
As a Swiftie myself who listened to the album at midnight, I would say the album is average. The more excited I became for the album, the more disappointed I became when I listened to it. For example, Swift's song "Snow On The Beach" with Lana Del Rey was supposed to be this huge collaboration but critics say Lana didn't even sing more than 20 words and was buried by Swift.
While the album is lovely and I love Taylor Swift to pieces, her newest album is extremely confusing. Another example of this is her song "Anti-Hero," "Sometimes, I feel like everybody is a sexy baby. And I'm a monster on the hill.", from the same song, "I have this dream my daughter-in-law kills me for the money. She thinks I left them in the will."
If this album is evidence of anything in the future, it's not looking good. It seems "Folklore" was Swift's peak and it's all gone downhill from there. I think a lot about how TikTok has influenced the music industry. I feel like that is a kind of overplayed point at this moment. Any pop song on the radio, the chorus hits in the first 30 seconds. That didn't used to happen. We used to have actual substantial verses. There would be an entire concept for a song, instead of one repeating line that hits that people remember and people can make up dances to. Hopefully, Swift takes this as a sign to move on from trying to follow this popular trend and start to create albums more like her earlier ones.
Leave a Comment
About the Contributor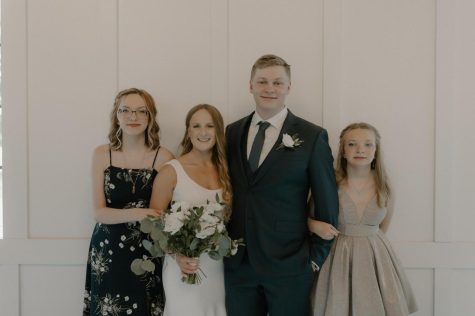 Grace Schmidt, Writer
Hi! I'm Grace and this is my first year in journalism! I am currently loving journalism and it has opened a whole new world to a future career.  I am...