"Lore Olympus": A great graphic novel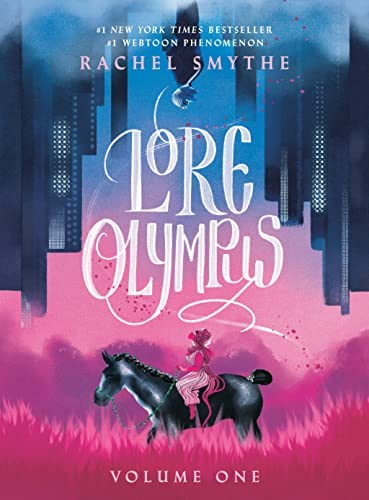 Though there are countless retellings of Greek mythology—the story of Hades and Persephone is especially prolific—one story sticks out in particular. "Lore Olympus" is a graphic novel written by Rachel Smythe, and has over 1.2 billion reads on Webtoon. Webtoon is an app which hosts countless graphic novels that are read chapter by chapter as they release, usually one per week. The first 'episode' of "Lore Olympus" released on Mar. 3, 2018, and episodes are still going strong today. What makes this series so special is the art, the stories, and the reading format.
Smythe of course writes the stories herself, but she also draws nearly everything on her own. In early episodes, it is obvious how new she is to both writing and drawing. Her art has vastly improved since the first episodes, and when reread, it is incredible how far she's come. Though, since "Lore Olympus" has become so widely popular, Smythe has an assistant that helps her with overlays for the artwork. She still does draw and write everything, which is a great feat considering there are over 215 episodes that have come out weekly over the past four years. Though Smythe has had to take a couple breaks throughout the years, she still keeps up with each episode, and always has at least 75 chapters ready in advance.
Smythe does an amazing job keeping the story going. It is easy to think "How on earth has this story gone on for four years?" But Smythe makes a point to try and tell as many stories from Greek mythology as she can. For example, while the story mainly follows Hades and Persephone, she also includes stories regarding Eros and Psyche, Hera, Minthe, Kronos, and so on. Though it might seem confusing because of all the side stories, it's never overwhelming or hard to understand because of the masterful pacing. While some may argue that the overall story plot is slow, if the story moved any faster, the audience wouldn't be able to savor each episode for what it is.
Every episode is placed for a reason, and it never feels like there are any 'filler' episodes. This is a bit of a break from the common Webtoon format, and it's a relief to not waste time reading something completely inconsequential. Although it seems like reading more than 215 episodes is a commitment, they could be knocked out in a day because of how enticing the story is. Each episode ends on a cliffhanger, keeping the audience on the edge of their seats for the rest of the week while they wait for the next part of the story.
Another reason "Lore Olympus" is so interesting is the format. Before Nov. 2021, readers could only read her work on Webtoon. Because there are so many episodes, Smythe has organized chapters into different seasons, and is currently in season 3 right now. Season 1 has 115 episodes, and season 2 has just over 90. After each season is usually when Smythe takes a break to catch up on the story. "Lore Olympus" is free to read on the app, but in Nov. 2021, "Lore Olympus" Volume 1 came out. It's essentially the exact same story, but in physical print. So far three volumes have come out, each containing 25 episodes or chapters. Lore Olympus Volume 4 comes out in print on June 6, 2023. Though it can be confusing between all the episodes, the seasons, and the physical volumes, I think that if you read "Lore Olympus" on Webtoon and catch up on all the episodes, you'll be unable to stop reading.
I think everyone should read "Lore Olympus" because the author does an amazing job at retelling Greek mythology, whose individual stories are elevated by the amazing artwork. Overall, I give this ongoing series a 5 out of 5 stars.
Leave a Comment