Racism is anything but new for the Royal Family
Racism Is Anything But New for the Royal Family
By Grace Schmidt
The Royal Family has been in the headlines for decades but recently it's turned for the worse. Racism continues to plague the royal family. According to CNN, "An honorary member of Buckingham Palace has resigned and apologized after a Black charity founder said she was questioned about whether she was really British at a royal reception on Tuesday." Ngozi Fulani, the guest, is the CEO of Sistah Space, an organization that provides specialized services to women of African and Caribbean descent who have experienced abuse.
On Nov. 29, Fulani was attending a royal function on domestic abuse organized by the Queen Consort when she said a member of staff began a line of questioning that the palace described as "unacceptable and deeply regrettable." Fulani stated that the individual repeatedly inquired about her heritage and refused to accept that she was a British national.
The person in question is Lady Susan Hussey, who served as the late Queen Elizabeth IIs lady in waiting for more than 60 years and is the godmother to Prince William. This also marks the first public crisis since King Charles III succeeded to the throne. "I was shocked," said Diane Abbott, a Labour MP who was the first Black woman elected to the House of Commons in 1987 and represents Fulani, "It's 2022, and people can speak and think like that."
"When Meghan Markle spoke about it, she was roundly abused – and she's still the target of negativity in the British press," Abbott added, referring to the former Duchess of Sussex. "I believe this incident demonstrates that what Meghan Markle was attempting to convey is true."
Racism became a more visible widespread issue within the Royal Family when Meghan Markle married Prince Harry. From the very start, Markle was heavily criticized by the British media and was painted as an outsider, 'just an actress,' and a rule breaker. Since Markle revealed to Oprah Winfrey last year that someone in the family questioned her about the skin tone of her unborn child (rumored to be King Charles), questions about how aggressively the palace confronts racism have swirled.
With everything coming out about Lady Hussey, her history is being looked at. This includes a story that CNN reported on: "The Queen dispatched Hussey and her Dresser Angela Kelly to offer Meghan advice, guidance, and tutelage after her entry into the royal family – an institution that the duchess has since said ignored her pleas about her mental health and made her feel unwelcome and isolated."
Recently a former counterterrorism police chief came out and said, Meghan and Harry faced "disgusting and very real" threats from right-wing extremists. And this is not the first time the royal family has garnered controversy with racism. Late last year, Britain's Guardian newspaper brought to light documents buried in the UK national archives that revealed the Queen's courtiers had prohibited ethnic minority immigrants and foreigners from holding clerical positions at Buckingham Palace until at least the late 1960s. When this became public, the palace declined to say when the practice would end, but told the public, "The Royal Household and the Sovereign comply with the provisions of the Equality Act, in principle and in practice. This is reflected in the Royal Household's work policies, procedures, and practices that promote diversity, inclusion, and dignity."
Some onlookers even see Hussey's quick departure and Kensington Palace's quick response as evidence that the monarchy is learning from its mistakes. "This incident would have been dismissed a few years ago, and Ngozi would have been regarded as overly sensitive," Abbott commented. The fact that there was an apology and William's spokesperson made a comment, shows that progress is being made on race issues in the royal family. If only that progress was made before Prince Harry and Meghan Markle left the royal family, it might've saved their relationship with the family.
Leave a Comment
Your donation will support the student journalists of Fargo North High School. Your contribution will allow us to resume physical printing of our newspaper for students at Fargo North!
About the Contributor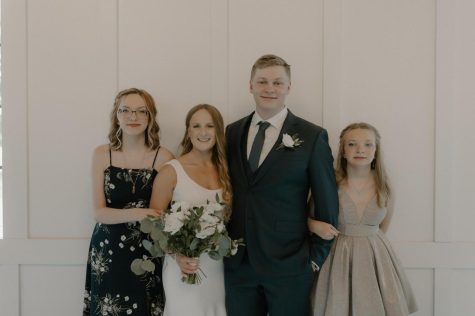 Grace Schmidt, Writer
Hi! I'm Grace and this is my second year in journalism! I want to continue in college and in the future! It's been one of the best experiences of my life....