Library updates expectations for second semester
Sitting in the library is a great way to spend your open periods. However, it's going to look a little bit different this semester. As much as the library staff loves welcoming all kinds of students doing all kinds of things throughout the day, they needed a rule update.
The library is an important space to have in our school for kids to get work done. It's supposed to serve as the counterpart to the commons. The library is quiet, whereas the commons are loud. It's for quiet work time where you can talk as much as you want and hang out with your friends in the commons.
"There is no other quiet space in the school, so we're trying to accommodate those who want a quiet space to do their work," said librarian Tyler Scott.
Students agree, and many choose the library specifically for that environment.
"In the commons there's a lot of noise and people are too busy messing around and playing video games and stuff. In the library its quieter and you're able to focus more," said senior Jawaad Salim.
So has there been a change? "It's a little quieter," said senior Henry Maughan; "It's nice to be able to work more efficiently and focus."
The library still welcomes and encourages students to work and relax in the library, and is always there to answer questions.
"I think they're going well. Students have been very respectful and understanding," said library assistant Roberta Russell. "I've been really grateful for how understanding of why we made the changes."
"We had just noticed that our numbers are down in the library, which we don't like to see. The numbers are diminished, especially over lunch," said library assistant Cindy Geston.
"It's pretty quiet and relaxing [in the library]. There aren't a lot of groups in here talking, and you can work by yourself," said senior Kendall Kackman.
Besides the noise, the library was getting too messy, and it was also necessary to crack down on the food and drink rules of carpeted areas.
"It just got too messy down here," said librarian Tyler Scott. With inconsistent cleaning by an understaffed custodial staff, something needed to change.
"I wish I could eat in the library," junior Shelby Middaugh said.
"I'm sixteen, I'm not going to spill. I want to sit there with my energy drink studying. The cafeteria is too loud and uncomfortable," said junior Emily Welk. "I can clean up after myself. People who don't clean up after themselves are ruining it for everyone," Welk said.
Leave a Comment
About the Contributor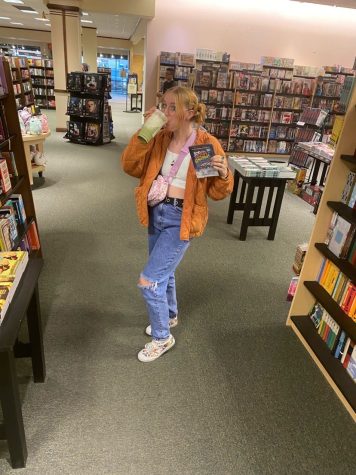 Susannah Schwantes, Writer
Hi! My name is Susannah Schwantes, and I'm currently a junior at FNH. I'm actively involved in theater, and am the current secretary on our thespian board....