North Dakota Legislative Roundup
The North Dakota State Legislature convened on Jan. 3, 2023. They had 960 bills proposed for this session. So far, 212 have failed, 60 have passed, and the remainder have yet to be finalized.
Of the proposed bills, there were some standouts. There was a bill proposed to recognize Juneteenth as a holiday and a bill to enforce anyone involved in a government funded organization to use pronouns that align with the gender marked on their birth certificate, which both failed.
Many proposed bills pertain to our schools and propose some changes. Some changes everyone can agree are for the betterment of our education system. For instance, Senate Bill 2340 requires all schools to have full-time counselors available and House Bill 1270 requires all school district meetings to be recorded and made available to the public. There are even some like Senate Bill 2032, which requires all schools to have a budget to provide grants to teachers seeking higher education. These all seem like positive changes with little to no downside.
However, there are some changes that are less directly related to the betterment of students and staff in schools alike. For example, House Bill 1522 allows a school board to prohibit transgender students from using the bathroom that doesn't align with their "biological sex". Currently, FPS has a feature where you can denote your pronoun preference/gender identity in Powerschool and some students even have special privileges to use single stalled staff bathrooms. This would all fall into the school boards hands if this bill were to pass, and might even become illegal.
There are some more complex bills like House Bill 1337, regarding "school security." It advocates for more funding towards school security, with some clear benefits, like criminal background checks for all staff and visitors.
There are also some more drastic measures, like allowing faculty to carry a firearm on school grounds if they meet a set of requirements, reinforcing the building, and other "security measures" while leaving the real problem unaddressed. Adding more guns to a location or situation increases the likelihood of gun violence, especially in an environment where gun violence is already present and feared. "It totally depends on who has the gun," says Mr Kloster. "If its a guy like me I would not feel safer." Additionally, Mrs. Blaser said, "I think we should hear from students and what would actually make students feel safer at school, and then actually put our money [there]." She goes on to explain that student's safety should be number one priority, "If things like metal detectors would make students feel safer in schools, it would be a worthwhile investment." Blaser also voices her concern for the families that don't want their kids around guns, saying, "I think that it would be hard to make that work and make all kids feel comfortable."
Counselor Kathryn Evensen says, "I do like the idea of a more secure campus" and highlights Ben Franklin's buzzer system as an option or something she thinks would easily increase security. She shares that she's "never come to work a day in my life working here where I feel unsafe. I just feel like if we had more security and locked doors […] it's just a good idea."
One last bill that has been receiving a lot of attention are House Bill 1205 and Senate Bill 2360. These bills propose banning all books and materials with "sexually explicit" content. It does exclude all science books, i.e. biology, anatomy and physiology, and sexual education. This bill defines sexually explicit as "any pictorial, three – dimensional, or visual depiction, including any photography, picture, or computer-generated image," of all facets of sexual activity, and "Sexual preferences; […] Sexual identity; or, Gender identity."
"I think it makes sense at certain grade levels to not expose kids to like explicit sexual content," says Blaser. "I don't think [someone's sexual or gender identity] should be considered sexual because like me saying I have a husband has never been sexual," she adds. "I don't think banning books is the answer," Blaser continues, "I think parents can still decide what they think is best for their kids and to not allow them to read certain books but that's a family issue, it shouldn't be a school issue cause that takes away options from all kids." Evensen chimes in that she doesn't see the harm, "as long as it's informative." She acknowledges that public schools have to be respectful of all their students religious beliefs and cultural practices, so she could understand some censorship there.
Overwhelming boos were received when a sophomore english class was asked how they felt about book banning. "Do they not have bigger issues?" asks sophomore Zach Christeson. Another sophomore chimed in, "education is power." the students couldn't understand the reason. They asserted that they couldn't find anything in the library that wasn't already on the internet.
Reaching out to your local elected representatives and senator is an easy way to get involved and make your voice heard and vote count.
Local organizations are taking action and making their voices heard in protest. Zandbroz downtown is hosting a postcard writing party to help people use their voice and get in contact with their senators and representatives. This event will take place March 13 at 4:30pm. Zandbroz Variety Store downtown on Broadway is specifically focusing on House Bills 1205 and 2360, which affect book banning, but all are welcome. They advertise as giving "an opportunity to learn more about the bills, and how to contact elected leaders." Supplies and talking points will be provided.
Leave a Comment
About the Contributor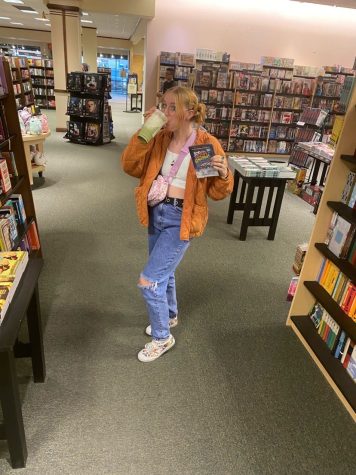 Susannah Schwantes, Writer
Hi! My name is Susannah Schwantes, and I'm currently a junior at FNH. I'm actively involved in theater, and am the current secretary on our thespian board....